Take this 20 week Inside Sales Programme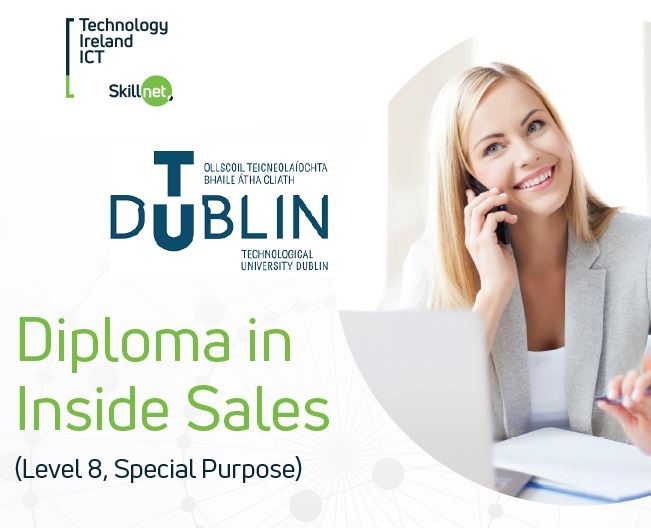 Inside Sales (IS) is a rapidly-growing industry and Ireland is quickly establishing itself as a centre of excellence for IS. The simplest explanation of what IS entails is ; professional sales done remotely. This means that the workforce can be based anywhere globally – subject to good comms. of course – and there can be flexibility in working hours as time zones vary.
But with high demand for IS roles and strong competition to fill them, how can you position yourself to succeed in this field, and to have an edge over others in the industry?
Ireland's Opportunity
Ireland is well positioned to become a global leader in this field and given the current economic and political climate, we are the location of choice for many global players looking to source reliable, professional IS suppliers and regional IS offices. As one of very few locations in Europe that speak English and given that we will continue to operate within the EU – which is a preference for many multi-nationals – there's an obvious growth opportunity in IS for the Irish economy.
Do you currently work in Inside Sales?
Have you considered how to develop a successful career that will open the door to some great work opportunities in the IS area? The reality is that the jobs are going to be here but only those with the right skills and who have demonstrated a commitment to working within the industry are likely to secure the best jobs. It will be important to show that you are willing to embrace the latest work practices and keep up with the technologies in use in the industry.
If you work in Inside Sales, you probably have a competitive nature. And so do your colleagues…so you'll need an edge to out-perform them both in the workplace and when you are looking to secure the perfect job.
Presenting the Inside Sales Program
To give you the skills you need to succeed and to counteract the disruption in technology and the impact it has on you as an Inside Salesperson, we are proud to present the Inside sales programme. Through a formidable collaboration of TU Dublin and the AA -ISP (American Association of Inside Sales Professionals), ICT Skillnet is excited to launch and part-fund this programme. It's dedicated to equip you with the knowledge and skills to overcome the technological challenges you face in IS, giving you the confidence and tools you need to work effectively and happily in the industry.
What are the benefits of the Inside Sales Program?
Drive on your career. Inside sales can be a competitive industry – give yourself the edge.
It's mostly online – giving you the freedom and flexibility to take the course and work at the same time.
Save time by getting it done in 20 weeks.
Upon successful application, you will gain membership to the AA-ISP – This puts you at the centre of the growing Inside Sales community, with access to an array of the latest sales resources.
Relevant and up to date learning- You can learn from peers in other companies, and see how best practice is implemented in reality.
Inside Sales…Final Words
Inside Sales is an evolving and growing industry and it plays a key role in new business models. By helping you to bridge the skills gap, ICT Skillnet is confident that there is a great opportunity for individuals to build successful careers and for the IS sector in Ireland to compound its position as a centre of excellence globally.
To make the most of this opportunity and to find out more, please check out the programme for more details.