Grant Aided Fee:
€1,299 for eligible applicants. €2000 for non-eligible.
Note:
Express your interest today via the enquiry form to be contact when details are announced for 2023.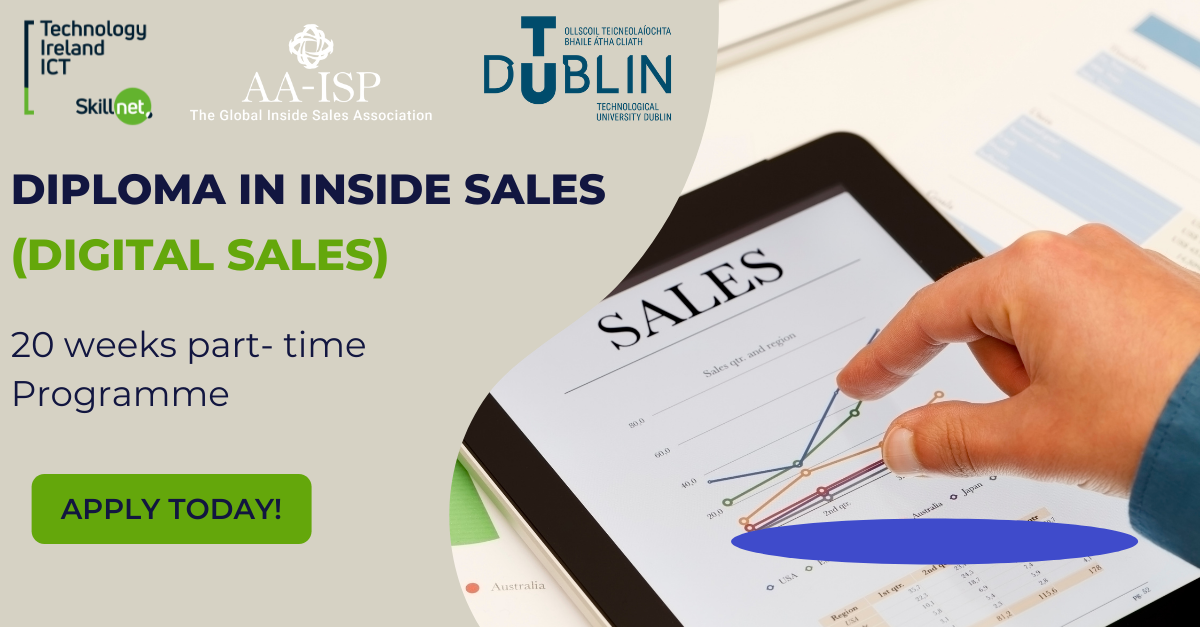 Overview
The Diploma in Inside Sales (Digital Sales) course will –
Equip you with the knowledge, skill set and cutting-edge toolsets to operate in functional team settings in Inside Sales environments.
Lead to the award of a Diploma in Inside Sales from TU Dublin with 30 Level 8 ECTS credits.
Grant you a one-year membership of the AA-ISP (American Association of Inside Sales Professionals).
The course is delivered mainly online as a joint venture between TU Dublin and the AA-ISP (American Association of Inside Sales Professionals) with financial support from Technology Ireland ICT Skillnet. The transformation of inside sales continues to grow apace and it is now the dominant sales model for reps in B2B, tech, SaaS, and a variety of B2C settings selling high-value items. It routinely involves high-touch transactions using advanced digital modalities.
About The Program
This predominantly online 20 weeks programme has been designed in partnership with the Global Inside Sales industry with the aim of developing the core knowledge, skills and competencies of the Inside Sales talent pool in Ireland based on internationally recognised best practices. With the disruption by technology and the impact this has on all aspects of our lives, it is important that we equip our Inside Sales people with the knowledge and understanding of how these technologies will support their job roles. Ireland is well placed to support these changes and this programme will assist organisations to remain competitive as all industries undergo service transformation.
For the first time, the course is accredited by an Irish University and developed through a unique collaboration of the TU Dublin and the AA-ISP (American Association of Inside Sales Professionals).
Fees
Course fee – €2,000
Skillnet grant – €701
Student Cost – €1,299
Candidates will be eligible for part-funded fees providing they are working in private or commercial semi-state organisations registered in the Republic of Ireland.
Eligibility
The entry requirement will be a 3rd level qualification from a recognised Higher Education Institute.
Leaving Cert/QQI/PLC/FETAC Level 5 entry routes will also be available with 1-2 years of relevant work experience.
Non-native speakers are required to have an IELTS of 6.5 (with no component less than 6.00) or equivalent.
Candidates should submit a CV in the first instance.
For further information please contact info@ictskillnet.ie
Student Testimonial