Duration:
Starts @1pm- 45 mins (30 min + 15min Q&A)
Note:
Free but registration is essential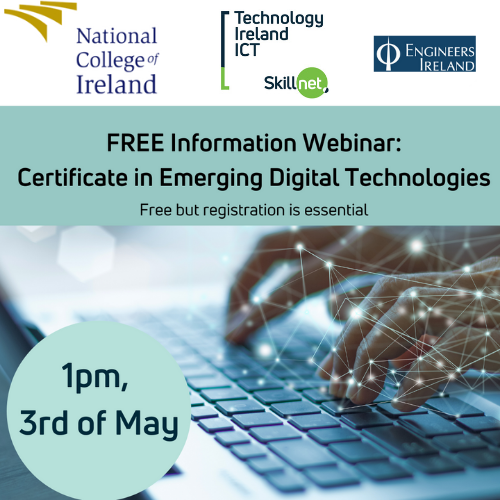 Overview
The last twelve months have seen a rapid acceptance of technology as a key enabler for businesses to survive and scale. The challenge faced by the majority of decision-makers is attempting to understand which of the technologies will beneficially impact their business and deliver value to their bottom line.
Are you unsure and hesitant about investing in technology?
Would insights and help in understanding those technologies be of interest to you?
Do you want to avoid losing competitive advantage or being slow to adjust to the new business world post-Covid?
You are not alone. In partnering with Engineers Ireland and the National College of Ireland the opportunity now exists to prepare for the future.
This online Certificate in Digital Emerging Technologies will give you a better understanding of new technologies like Artificial Intelligence, Blockchain and Cybersecurity amongst others, to empower you to make better business decisions while adding new knowledge to your individual learning portfolio.
Learn more about the Certificate in Emerging Digital Technologies and apply today-  HERE
In this informative webinar we will discuss the following:
Course content and overview of topics (emerging technologies and digital transformation)
The learning approach (directed learning + online sessions)
Who it appeals to
Assignments (workload, etc.)
Benefits and expectations
Funding eligibility
We will also hear from a student who undertook our programme in 2021 plus a Q&A should you have any questions.
Speakers
Victor del Rosal, National College of Ireland.
Victor del Rosal is a Senior Consultant and Lecturer in Innovation and Emerging Technologies at the National College of Ireland.
Previous industry roles include Director of Strategy and Business Development at cloud services provider CloudStrong, senior consultant at emerging technology consultancy EmTechHub, and head of business analysis at Tata Consultancy Services' Supply Chain Centre of Excellence for High Tech and Telecom. His education includes a Certificate in Managing Innovative Technology from the University of Oxford, an MSc in Management from UCD Smurfit Graduate Business School and a BSc in Industrial and Systems Engineering from Monterrey Tech. Victor is co-recipient of the 2019 NCI President's Award for Distinguished Teaching and co-recipient of the 2021 Teaching Award by the National Forum for the Enhancement of Teaching and Learning in Higher Education and the Union of Students in Ireland (student-led awards).
Gillian O'Grady, Technology Ireland ICT Skillnet
Programme Lead for the Certificate in Emerging Digital Technologies.
John O'Shanahan, Lean BPI
Student on the 2021 Certificate in Emerging Digital Technologies.