Note:
Event time - Start time to be confirmed closer to the date.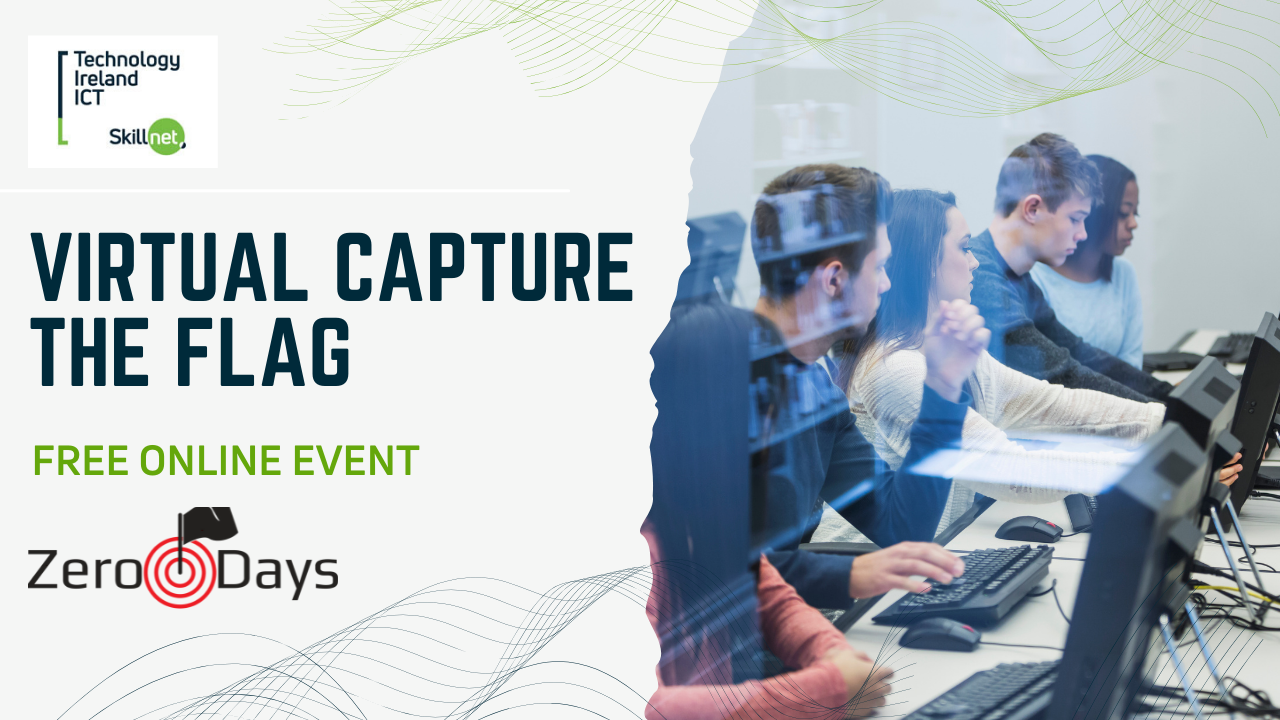 Overview
These engaging gamification events are great for all employees to get involved in.
The Virtual Capture The Flag (vCTF) is an interactive fun environment and an opportunity for organisations to have their employees engage in a set of technical or non-technical challenges which:
trains them to both recognise and mitigate exposure to potential threats,
ensures that they hone their cyber awareness skills through puzzles and challenges,
tests their knowledge and competency, both individually, and as a team.
vCTF events offer a unique, fun and engaging way to learn cybersecurity concepts and gain new skills. Regardless of background or skillset, CTFs really are suitable for all ability levels. If you know how to open a web browser then you're ready to take part in your first CTF event. So, if you enjoy solving puzzles, want to learn a little about cyber security or just want to challenge yourself, then these events are for you. 
It is widely accepted that everyone in business, whether communicating, trading online or working within cloud-based networks, needs to be aware of the potential cyber risks and threats that exist. As many have transitioned to remote working, and as employees access commercially sensitive data, organisations more than ever cannot afford business disruption, reputational damage, or financial threats to their bottom line caused by security breaches.
As evidence shows, the potential for attack has increased substantially in recent times, and consequently, company directors have the responsibility to protect their businesses and ensure that their organisations have employees who are competent at recognising and managing the prevention of cyber threats and risks, suitably trained to maintain compliance with data security requirements, continuously security conscious and aware of their cyber responsibilities, whether dealing with co-workers or outside organisations.
Is there any cost for companies that host a Virtual Capture the Flag Event for their staff?
NO – Capture The Flag events are  fully funded by Technology Ireland ICT Skillnet as part of its commitment to deliver cyber awareness to the Irish business community. They provide a unique solution to provide cyber training to employees in an engaging real-world environment. All you need to do to organise a company specific event or to schedule a demo is email info@ictskillnet.ie
What happens during a CTF event?
During a CTF (Capture the Flag) event, participants compete in teams to try to complete various challenges. In these challenges, the participants are usually asked to find a specific piece of text that may be hidden in some file, picture or on a webpage. This text is called the flag, hence the name! Competitors try to complete as many challenges as they can; completing a challenge earns you a flag which scores you points. The competitor with the most points at the end of the day is the winner. Instructors are always available to offer more help and nudge you in the right direction if you get stuck.
Who is it for?
CTFs are available to everyone. Many challenges do not require technical or security knowledge and are simply a matter of problem solving and creative thinking. CTF events vary hugely in difficulty. For our events we offer two tracks running concurrently to cater for all abilities and skills levels.  The key element being, you don't need any technical skills or a background in security to participate in and enjoy the events. At the time of registration you will be asked to choose which track suits you best:
Non-Technical:

Suitable for all levels, especially those who don't consider themselves to have any technical IT background or skillset. These challenges will show you how easy it is for hackers to perform some of the more common attacks. Most of these challenges can be solved with just a web browser. 

Technical:

If you come from a technical background, then this is the track for you. You don't need to have any security background.   This track is particularly suited for those who consider

themselves elite hackers or experienced developers, system administrators or network administrators etc. 
Playing as a team 
By far the best way to experience CTFs is to play as part of a team. Teams usually consists of  of 3-4 people. Challenges cover a wide range of topics and the more diverse mix of skillsets and backgrounds you have on a team, the better. Many eyes looking at a puzzle or problem always makes it easier to solve and you can learn so much from everyone on your team.  
What Past Participants Have Said
"Took part in today's CTF and had a great time with an ad-hoc team. The advanced challenges were surprising – new and clever. We got the silver, hats off to the team that went home with gold. Absolutely recommended!"
"Overall – I REALLY enjoyed the event. The experience of the environments, the types of challenges, the topics of the challenges, working in a team. Loved it. This will be my 1st of many!"
"It made you think outside the box, brought back some old skills I don't use much anymore"
"The moderators were very helpful and responsive – it all worked really well."
Learn More
Click here to find out more about Capture the Flag Events
If you are interested in finding out more about Capture The Flag events please contact us at info@ictskillnet.ie
If you are interested in finding out more about Cybersecurity training please click here