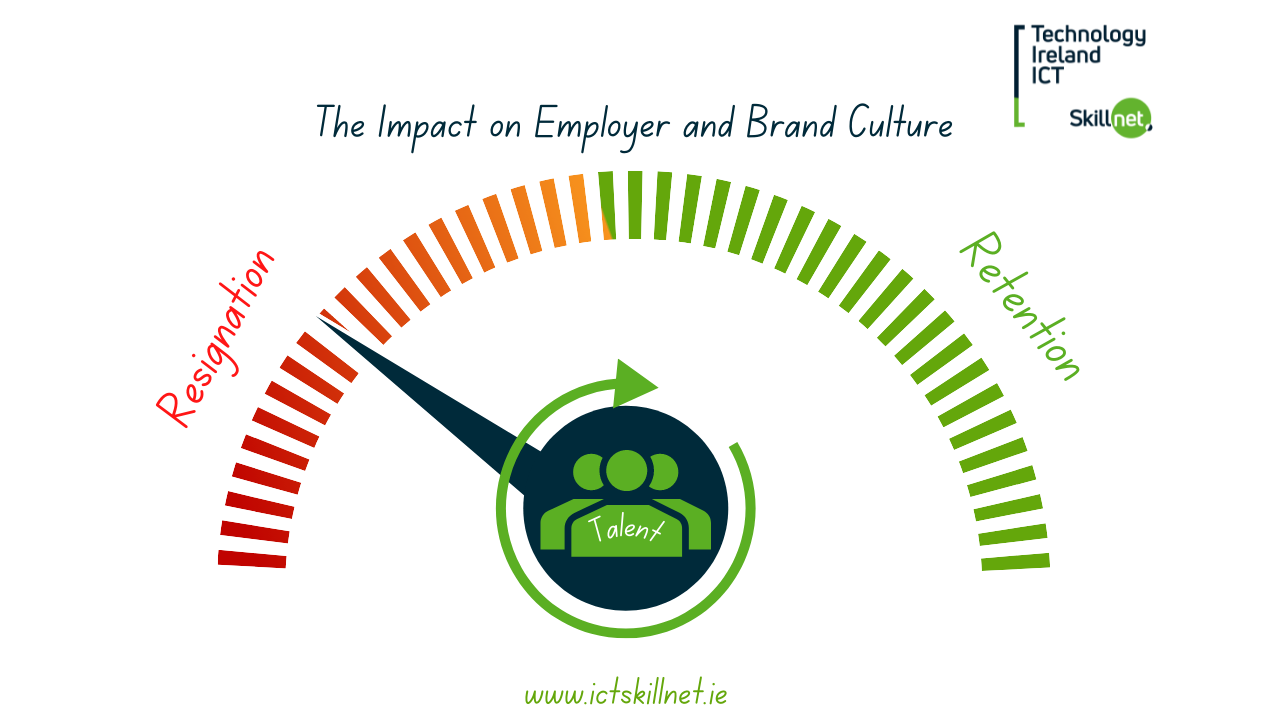 The Impact on Employer and Brand Culture
The previous blog posts in this series explored what is driving talent to leave organisations.  We suggested mitigation strategies and how creating learning & development (L&D) strategies can assist leaders in implementing those practices that support the retention of key talent. This blog will focus on the interplay between employee retention and employer branding and organisational culture.  
Let's start with employer branding, which describes a company's reputation and popularity from the perspective of a potential employee.  Employer branding articulates the company's reputation as a workplace and its employee value proposition. Historically branding has described the reputation of the company's products and services however, due to the challenging times we are experiencing in today's business world, employer branding is increasingly becoming associated with people and their sentiment towards the organisation. How employees in the company feel, and how prospective talent in the marketplace perceive the company, is becoming increasingly important. If we consider what employees tell their families, friends, acquaintances and strangers about the company, the employee benefits, the leaders, and their overall personal level of satisfaction, we can envision the impact on the company's reputation of the expressed positive and the negative sentiments. 
The 2021 employer brand research by Randstad found that two-thirds of those surveyed felt more loyal to their employers based on how well they felt they were supported since the onset of COVID-19. This showcases one type of goodwill which affords organisations the opportunity to continue to build trust and loyalty among their workforce and prospective hires. It also demonstrates an aspect of the company's culture, highlighting how it takes care of its employees, which directly impacts the employer brand.  Many of the attributes employees valued prior to the pandemic, that have changed, however, one attribute continues to dominate and that is the value employees place on their health and wellbeing and they seek prospective employers who meet this requirement. 
Corporate culture is often described as "the way we do things around here", but fundamentally it's much more.  It refers to the organisation's values, vision, ethics, behaviours and work environment. It is what distinguishes each company and impacts a range of areas from the company's public image to employee engagement and retention. It can be beneficial for a company's bottom line, if its employees share its ethics, vision, and other elements of organisational culture, creating better workplace morale, and higher engaged, productive staff.  Studies show that a healthy workplace culture is a major factor in staff engagement and retention, while a negative culture can lead to unhappy employees, substandard work, high staff turnover and unhappy customers. It can also drive the best people out of the business. 
Culture and values are becoming deciding factors for prospective employees. If culture and values are clear and understood, employees have sight of what it will take to be successful in the organisation and, how they can contribute and move ahead in their career. Employees who know how they can be successful, are more likely to be empowered, engaged and happy at work. 
A mission and culture survey carried out by Glassdoor in 2019 found that over 77% of adults explore a company's culture before applying for a job there. In this study more than 50% of the 5,000 respondents said that company culture is more important than salary when it comes to job satisfaction. Therefore it's crucial to portray your company culture as accurately as possible. When an organisation is represented in its true light, it creates an employer brand that reflects the lived experience of the employees, helping attract candidates for the long term and retaining key existing employees.   
Leaders need to ask two questions:
What are my organisation's values?  and,
Are they likely to resonate with existing and prospective employees?
It isn't until an individual is working in an organisation that they get a true sense of the organisation's culture.  However, conveying your company values, being clear about your mission and finding creative ways to demonstrate your uniqueness, and how it relates to your workforce, helps to bring to life aspects of your organisations' culture.
The company culture needs to be driven from the top and reinforced in the normative behaviour of all the leadership team and the employees, particularly in how they communicate and interact with each other.  Employees recognise positive and negative cultures so articulating that you have a positive culture, when the lived experience is a negative culture will lead to, at best morale issues and at worst retention issues. Take a step back and consider, what your organisation is doing that nobody else can do? What is your unique value proposition? What does your company do that makes the competition irrelevant? Answering these identifies your unique value proposition which needs to be at the heart of the organisation's goals and objectives.  Every leader and employee needs to know it, and be focused on attaining it, in the context of their role in the organisation. If, for example we are trying to grow the company and expand into the international marketplace which has never been done by our competitors, everyone in the company from the CEO to the newest team member needs to know this, and know that this goal uniquely differentiates the organisation from others in the marketplace. 
That value proposition should be front and centre in the organisation's goals and objectives so that everyone in the organisation is aiming for it.  Culture starts to become real when employees are motivated to make this goal happen. The way people work is different, reflect on what makes an employee think the way they do, or behave the way they do? The motivator for one person to perform to the highest levels may not work for another. Therefore, culture and a climate of positivity, productivity, and collaboration has the power to propel individuals, teams, and the whole organisation forward.
Achieving your company culture won't happen overnight – it takes planning and time.  Set your company's culture goals, and then work to achieve them. For example, if you want to create a more collaborative company culture, set that as a goal and implement the steps needed to achieve it. 
When onboarding new employees it is important to share their work responsibilities with them, but also to describe your organisation's culture. The onboarding process helps establish expectations and also provides guidance about "how we do things around here". Sharing the company's core values and expectations with a new employee helps them adapt to your company's culture, thereby creating a positive work environment, setting the individual up to succeed.
When we look at employer branding and organisational culture we see two areas that are intrinsically linked and have a significant impact on employee retention, and on the organisation's ability to attract the best talent in the marketplace.  Current and prospective employees are discerning when it comes to employer brand and culture.  More and more they are looking for organisations with a positive work culture, strong ethical brand and those who give back to society through corporate citizenship (or corporate social responsibility) or corporate social entrepreneurship, in effect, demonstrating strong sustainable business practices.
How can Technology Ireland ICT Skillnet Help?
If any of the areas covered in this blog resonate with you, and you would like the opportunity to discuss how we can help you move the dial from resignation to talent retention, please feel free to get in touch with me at carmel.somers@ictskillnet.ie and I will be happy to arrange a time for an informal chat.