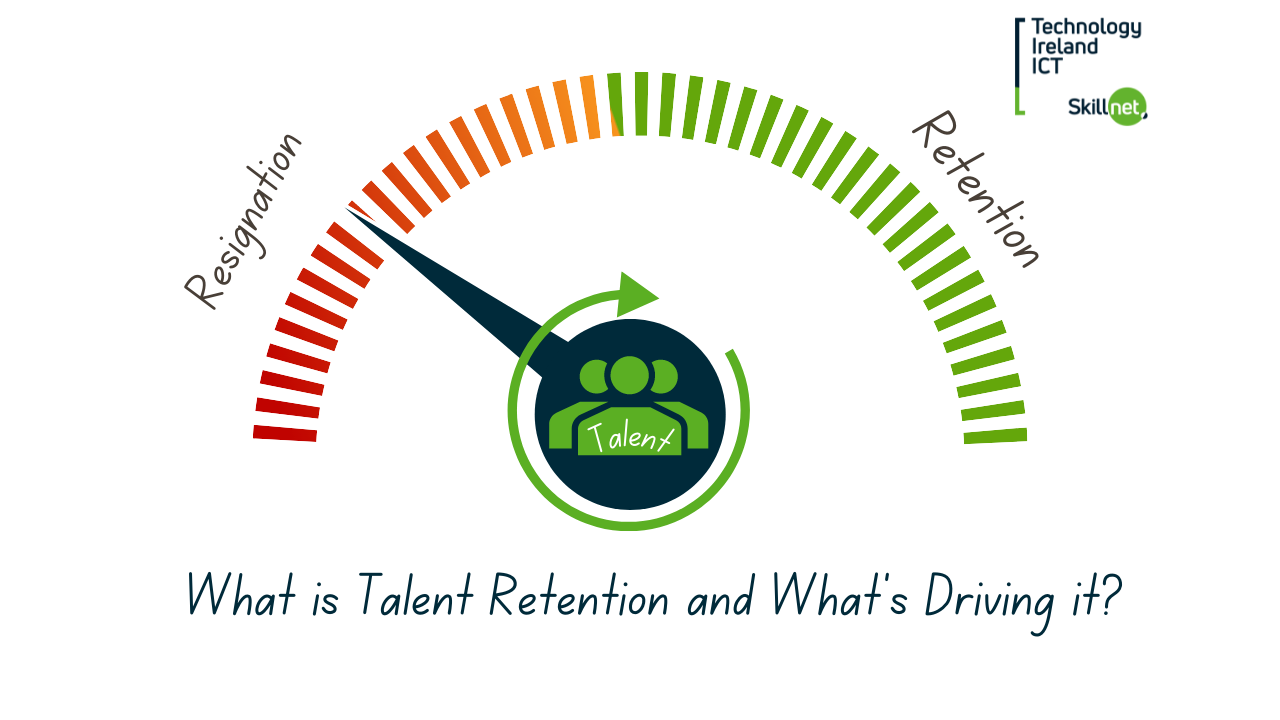 What is Talent Retention and What is Driving it?
This is the first in a series of blog posts which will explore Talent Retention.  As organisations are faced with the rapidly changing world of work, the war on talent has become increasingly prominent, and one key aspect for leaders locally and globally is talent retention.  In this week's blog we explore what talent retention is and what's driving it.  We'll take a look at what motivates employees to leave an organisation, and identify some of the newer motivations that have come to the fore due to the Covid-19 pandemic, which has changed the work landscape for many organisations and employees.  There are direct and indirect cost implications of losing talent from the organisation, which analysts have estimated could be in the region of  €538m for Irish SMEs, and another staggering statistic from two Irish studies which highlight over 40% of the Irish workers surveyed, plan to leave their current employer in the next twelve months.
What do we mean by Talent & Talent Retention? 
Talent describes those individuals who possess in demand specialised skills and knowledge or who have the ability and drive to develop the skills and expertise required to fill critical roles in the organisation.
Retaining talent requires business leaders to implement activities and practices designed to prevent key individuals leaving the organisation.  Those sectors most affected by talent shortages and as a result experiencing higher turnover, are those in knowledge intensive industries including financial services, technology, media, telecommunications, healthcare and manufacturing.
What is driving Talent to leave Organisations?
We have all heard of the Great Resignation, a relatively new term coined by Dr Anthony Klotz, a professor of management at the Texas A&M Mays School of Business, in his article titled "The Covid vaccine means a return to work and a wave of resignations".  He alludes to the fact that many employees stay in jobs because the cost of leaving is higher than staying however, in many cases these costs have reversed.  With employees set to return to the workplace as Covid restrictions ease, the cost of staying for many workers has increased, while the costs associated with moving jobs has decreased with many organisations offering flexible working.  One glaring statistic that demonstrates the great resignation is cited by Mann, (2022) who highlighted over 4 million people in the US left their jobs in July 2021 alone.
While we may not be seeing related levels of job resignations in Ireland, it is fair to say that acquiring and retaining talent is a critical worry for leaders globally as noted by Kropp and McRae, (2022).  This corresponds closely with the latest PwC Pulse Survey conducted between January 10th  and 14th, 2022.  Of the 678 US executives surveyed, 77% say hiring and retaining talent is the biggest risk to their ability to meet their business targets.  An International study by Workhuman in late 2021 which covered 3,500 employees in Ireland, the US, Canada and the UK found that 42% of Irish workers surveyed intend to resign within the next 12 months – a figure that has jumped from 21% prior to the Covid-19 pandemic, (Neville, 2021). This  survey of Irish workers conducted by the Work Futures Lab at the Kemmy Business School, with 41% of 1,000 workers saying they see their future career lying outside their current organisation, (Martyn, 2021)
What are the Factors Underlying Employee Resignations?
Firstly, Baby Boomers (people born between 1946 and 1964) are retiring, and this has been accelerated by the Covid-19 pandemic.  In Q3, 2020 nearly 30m Boomers retired leaving a significant gap in the skilled US labour market. This is part of the natural evolution of work, and an ongoing situation that most organisations face to some degree each year.
Looking specifically at retention issues, a Stanford study conducted by Lester, Rouen and Williams, (2021) highlighted how employees feeling underappreciated and undervalued was a key motivator for them to leave their organisation.  In fact 66% of employees stated they would quit if they didn't feel appreciated, and that number is even higher for younger workers with almost 8 out of 10 millennials in the same study, stating they would move if they felt under appreciated.
Many workers experienced remote working for the first time during the pandemic. As humans have a fundamental need for autonomy, working remotely gave them freedom and flexibility particularly, if they were caregivers or parents.  For many losing that flexibility will result in them leaving for organisations who continue flexible working practices into the future.
Additional drivers include work related mental health problems, which as many as three in five employees experience in their working life.  While this transcends age and gender, a study of 2000 participants in 2019 by the UK job board, CV Library, found that six in ten men want to quit their jobs due to poor mental health, Fenton, (2019).  The primary contributor cited in the study is long working hours.
A poor relationship with an employee's direct line manager is a recurring reason for employees to leave. The old adage that we work for a boss and not an organisation, tends to ring true when polls such as one in 2017 by Gallup found that 75% of those who left their jobs in the US voluntarily, did so because of their boss and not the job itself, (LinkedIn, 2017).
Corporate culture can also feature prominently in why employees leave.  It's fair to say that most employees want more from a company than just being paid a salary and are often willing to compromise on base salary for a "right fit" with the organisation.  A corporate culture that embraces core values that resonate with an employee is key to how they perceive the organisation and the degree to which they feel part of it.  A survey by Deloitte in 2017 found that 72% of senior leaders would leave their company for a more inclusive one, (Umoh, 2017).  As diversity and inclusion become more central in the globalised world of work we can expect this percentage to rise.  Closely linked to this is employee experience, which can be described as a range of psycho-cognitive sentiments about the experiential benefits of employment, which includes aspects such as meaningful work, strong leadership, health and wellbeing, positive workplace, opportunities for growth and trust in the organisation.
So let's step back and see if there is a common thread across these resignation trends?  Years of research into human behaviour has shown that people have two overarching goals in life: happiness and meaning.  We spend a significant part of our lives working ,so the jobs we do should provide us with satisfaction and purpose, and in turn this has an impact on how happy and meaningful our lives are outside the workplace.  If we look at resignations in this context, it's not difficult to see why making a decision to leave an organisation is happening, particularly as the pandemic has made many people reflect on their job and how it is, or isn't contributing to their overall happiness and providing a sense of meaning or purpose.  As a result many are making decisions to resign and invest their energy in new jobs, new careers or other aspects of their lives.  We will take a closer look at these challenges and ascertain how leaders and businesses can address them in our next blog post.  We will explore a range of practical options including the role of Corporate Social Responsibility and Corporate Social Entrepreneurship in addressing employee happiness and purpose.
How can Technology Ireland ICT Skillnet help?
If any of the areas covered in this blog resonate with you, and you would like the opportunity to discuss how we can help you move the dial from resignation to talent retention, please feel free to get in touch with me at carmel.somers@ictskillnet.ie and I will be happy to arrange a time for an informal chat.