Note:
Free to attend, registration essential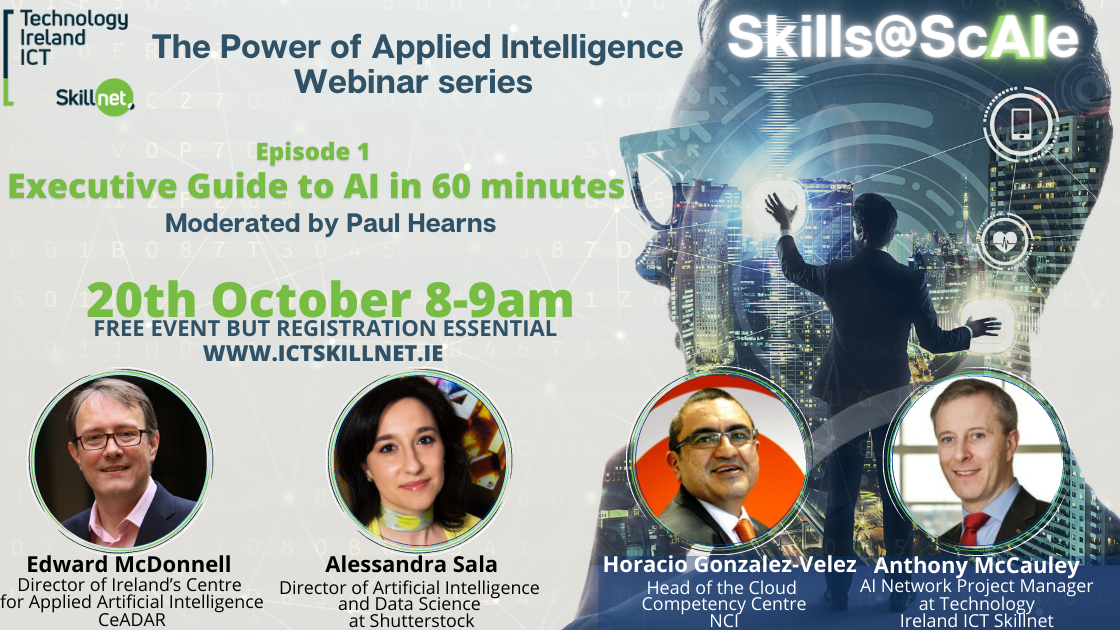 Overview
A recent survey from the European Union gauging the "use of technologies based on artificial intelligence" found that awareness of AI within the business environment is now almost universal, however levels of adoption are low while those projects which lead to "impact" are lower again. Some organisations suffer from what McKinsey refers to as "pilot purgatory", proof of concepts that never reach production. The purpose of this series of webinars – The Power of Applied Intelligence – is designed to provide no nonsense, practical and pragmatic advice to Business Leaders, to improve their understanding of artificial intelligence, demonstrate where the growth markets exist, where investment is taking place, the sectors of interest and the applications which are delivering bottom-line return on investment.
Time is precious, and our intention is to pack 60 business minutes with expert advice and guidance to assist your adoption and enable you to deliver artificial intelligence with impact. The series kicks off with the "Executive Guide to AI in 60 minutes" continuing with
The Challenges of Entering the AI Market, A European Perspective
Transforming Your Business to become AI-Ready
There's no AI without RoI, Building the AI Business Case
Following the Smart AI Money, Venturing into AI or Partnering for Success
Can you trust AI with your business delivery?
Business Leaders, policy makers, venture capitals, entrepreneurs, leaders of AI accelerators will join the series to map out the landscape, highlight the potential and provide you with the confidence to begin or continue your AI journey.
In this first webinar the panel will explain how AI is powering business applications to deliver a transformation in the creation and delivery of new services.
Speakers
Alessandra Sala
Director of AI and Data Science at Shutterstock
A Research and Scientific Leader in Artificial Intelligence, Alessandra is the Director of AI and Data Science at Shutterstock. Alessandra has over 10 years' experience in research and innovation gained whilst working in academic and commercial environments. Alessandra is passionate about advanced analytics, machine learning, and computational models with a focus on transferring innovation from research to products.
As Ambassador of Women in AI Ireland (a non-profit do-tank working towards gender-inclusive AI that benefits global society) Alessandra has fostered the largest AI community of women and minorities in Ireland providing means for growing knowledge and expertise thanks to the strong support of the government, academia and private enterprises.

Edward McDonnell
Director CeADAR
National Centre for Applied AI
Edward McDonnell is the Director of Ireland's Centre for Applied Artificial  Intelligence www.ceadar.ie The Centre which is funded by EI and the IDA has over 90 member companies across a wide span of industries.
Prior to being appointed Director of CeADAR, Edward was European Director of Innovation & New Technology at Fidelity Investments. The role involved prospecting for FinTech technology and investment opportunities across Europe, understanding developments in the European innovation ecosystem, and directing technology trials.
Edward has also held various technical and global senior management roles in the Office of Strategy and Technology at Hewlett-Packard Europe based in England.
Edward has a PhD in Analytics and AI from the University of Edinburgh, is a Fellow of the IEE & ICS, and is the named inventor on 76 granted patents. He has been awarded several international prizes including the Scientific American top 50 technologies that demonstrate outstanding leadership, Grand Award and Overall Winner for Innovation, Popular Science (USA), Horizon Award "10 Cool Cutting Edge Technologies", Computer World (USA)

Horacio González-Vélez
Head of the Cloud Competency Centre
National College of Ireland
With twenty years of experience in the technology industry and academia, Horacio joined the National College of Ireland to start the Cloud Competency Centre in 2012. He directs the NCI's cloud and data analytics infrastructure, postgraduate programmes, and research & innovation initiatives. He is an academic representative to the Steering Group of Technology Ireland Innovation Forum/ICT Skillnet.
Horacio started his career as a true dot-commer working in HPC systems engineering and product marketing for innovation-driven companies Silicon Graphics and Sun Microsystems. He later did a PhD and a postdoc in computer science at the University of Edinburgh.
Anthony McCauley
AI Network Project Manager
Technology Ireland ICT Skillnet
Anthony will host the series of webinars as he leads Technology Ireland ICT Skillnet's Artificial Intelligence Network. The AI Network is designed to build skills pathways for business leaders to enable them to take advantage of the transformational change taking place within the business environment. Anthony is the former Head of Research and Innovation at Fujitsu Ireland and Chair of the Industry Advisory Board for the national Masters in Artificial Intelligence delivered by University Limerick.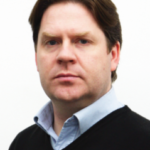 Moderator: Paul Hearns
The webinars will be moderated by Paul Hearns who is a journalist, commentator and presenter, with more than twenty years of experience in the ICT sector.