Location:
Marker Hotel, Dublin
Grant Aided Fee:
Special Rate for ICT Members
Quest for Quality Conference
Technology Ireland ICT Skillnet are delighted to support the 2018 Quest for Quality Conference.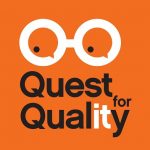 Quest for Quality is a 2-day forward-thinking annual software QA and testing conference, discussing the latest trends and topics of the quality assurance, bringing together international thought leaders addressing latest challenges of new technologies.
The main topic this year will focus on REINVENTING QA FOR THE NEW IT ERA.
Special Offer for ICT Skillnet members
We are delighted to offer 50 grant aided places to eligible participants*.  This will reduce the cost of the two day ticket to €640.
*To be eligible you must be resident and working in Republic of Ireland in a private or commercial semi-state organisation.
Link to the conference website for more information
Click here to apply for a grant aided place