Duration:
Running Online from the 25th - 27th May
Grant Aided Fee:
€95 per person
Note:
The course will consist of 3 half day workshops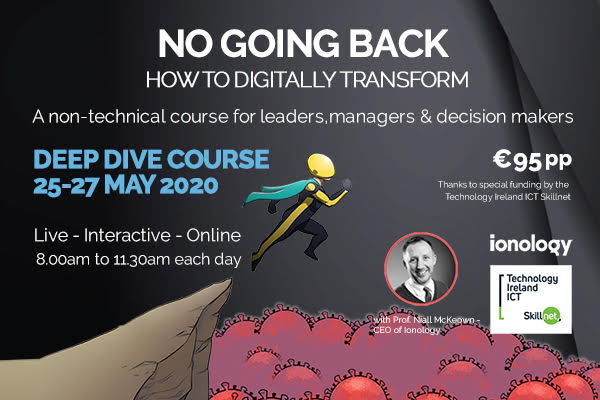 Overview
*Only 9% of people want to go back to the way things were before COVID-19
The economic model will change. What people value has changed. Our business model will likely change. What we automate, how we communicate, how we collaborate, will all change whether we like it or not. Everything needs to change. There is a desire for a different way of working.
At the other side there is artificial intelligence, the most powerful technology on the planet. Yet most businesses are unable to benefit from it. Not because of the complexity. Because business leaders, managers, decision makers don't understand how to leverage it. The business subject matter expert is waiting for the technical guy. The technical guy is waiting on the subject matter expert.
COVID-19 has been the biggest technology inducing reboot of a generation. Business models have been tested. Agility, innovation and an ability to automate became critical overnight. Most businesses that thought they had digitally transformed found out that they had only digitised. Unable to innovate at pace, pivot on command and read the data signals of customer demands, all missing.
Amidst the global pandemic are a plethora of businesses who desperately need to adapt their organisation in order to survive in the digital economy. One of their biggest challenges is they don't know where to start.
This deep dive course is aimed at the non-technical leader, manager and decision maker and is designed to illustrate that it is they who need to lead their digital transformation – not the tech professional.
Ionology have designed this deep dive course to educate leaders, managers and decision makers on how to adapt the digital mindset, provide guidance on how to plan and practical advice on what is needed to implement a repositioning of their business in the digital economy. It will offer basic steps to kick off their journey and help them assess what they need to do to digitally transform.
Agenda
• What has happened since COVID-19
• Who is prospering and why?
• Human centric digital business models
• Leading in the digital age
• Delivering the change your people want
• Creating a business people want to engage with
• Delivering autonomy, mastery & purpose in the digital age
• The journey beyond survival; how to flourish in the new world
• The tools, capabilities and actions for you and your teams
• Using data to deeply understand your teams and customers
• AI is coming, embrace it, humanly
• Creating a culture of digital innovation
Learning Outcomes
• How leaders, (supported by technologists), must lead your digital transformation
• An analysis of what has changed since the outbreak of the pandemic
• How to measure if your business is up to the challenge for the 'new world'
• A clear understanding of what needs to be done to ready your business for changed times
• What alternative business models look like
• How to reposition with customers and key stakeholders
Please note that in booking and paying for a place on this programme you will be sent a link to the Ionology online platform.