Location:
Self Paced Entirely Online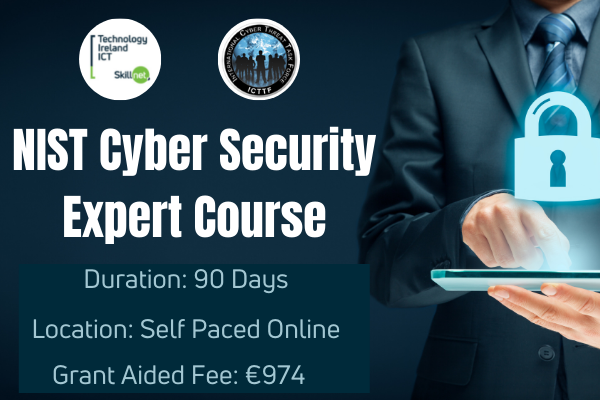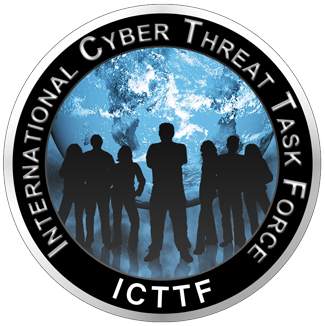 *Fees
Full Course fee – €1,299
Technology Ireland ICT Skillnet grant – €325
Student Cost – €974
Candidates will be eligible for part-funded fees providing they are working in private or commercial semi state organisations registered in the Republic of Ireland.
Overview
"Teaches You How to Establish, Assess and Operationalize a Cyber Security Program Based on the NIST Cyber Security Framework"
The NCSE (NIST Cyber Security Expert) certification course has been developed to teach businesses how to establish and operationalize a cyber security program based on the NIST Cyber Security Framework. This non-tech syllabus aimed at business leaders and/or cyber security practitioners has been developed based on a holistic body of knowledge that encompasses a real-life pragmatic approach to understanding the fundamental concepts of cyber risk management and how to leverage the NIST Cyber Security Framework in order to assess, implement and operationalize a cyber security program. No previous cyber security knowledge is assumed and the course is appropriate for all levels.
The course is non-technical in approach and supports students on a 90 days journey. You are provided with 24/7 access to all materials and are also supported with access to live learning support sessions. Successful certification is via continual assessments with weekly online exams.
Course Content
The syllabus presumes little to no cyber related experience and commences with providing an understanding of the CYBER THREAT LANDSCAPE. In the first module, we explore the cyber threat landscape and gain an understanding of the key threat actors, their motivations and techniques.
We breakdown the underground economy of cybercrime. We reference real-life case studies of high-profile cyber-attacks with a view to understanding why and how they were attacked and what could have been done to prevent the breach.
We then move on to understanding CYBER RISK MANAGEMENT FUNDAMENTALS.
In the second module, we explore the key aspects of cyber risk management. Understanding the fundamentals of CRQ Cyber Risk Quantification and how to engage the business by leveraging "Meaningful Metrics" related to the business strategy. Developing KPI's (Key Performance Indicators) and KRI's (Key Risk Indicators) that empower the business and how to leverage those metrics to develop appropriate maturity roadmaps and appropriately inform business leadership.
We then progress to UNDERSTANDING FRAMEWORKS AND CYBER STRATEGY. In the third module, we outline the importance and the anatomy of a cyber strategy and how a cyber risk framework supports that mission, leadership, culture, governance structure and all supporting processes.
We explore how a cyber risk framework operates and how it integrates with the business value chain. Understand the foundational elements including standards, policies, procedures, legal and regulatory controls.
The next 5 modules are focused on thoroughly understanding the NIST CSF FUNCTIONS. Each function is explained with easy to understand terminology leveraging real-life and abstract examples across each function including every single category and subcategory of controls.
We also review the related informative references with implementation tiers for each function area.In module 5, we breakdown the NIST IDENTIFY FUNCTION by exploring how to develop an organizational understanding in order to manage cybersecurity risk to systems, people, assets, data, and capabilities.
We then breakdown the NIST PROTECT FUNCTION by exploring how to develop and implement appropriate safeguards to ensure delivery of services.
Next we breakdown the NIST DETECT FUNCTION by exploring how to develop and implement appropriate activities to identify the occurrence of a cybersecurity event.
We now move to breaking down the NIST RESPOND FUNCTION by exploring how to develop and implement appropriate activities to take action regarding a detected cybersecurity incident.
We then breakdown the fifth area which is the NIST RECOVER FUNCTION by exploring how to develop and implement appropriate activities to maintain plans for resilience and to restore any capabilities or services that were impaired due to a cybersecurity incident.
Finally, we outline what is involved in ESTABLISHING A CYBER RISK PROGRAM. How to apply the NIST CSF in the real world is the objective of this module. We explore methodologies, protocols and lifecycles in relation to assessing and implementing the framework. We leverage a case study of a financial service entity and walk through assessing the organization, developing a maturity roadmap related to a target profile and implementing it. Understanding how to manage and communicate the status of the program is a key component of this module.
Who is it aimed at?
The course syllabus has been specifically designed to be collaborative and bring together business leaders of various disciplines within an organization. They are the key stakeholders in designing, implementing or supporting the cyber risk management program of an organization. Key cyber risk management stakeholders include:
C-Suite
CISO/CSO/CIO or CRO
Head of IT/Security
CCO Chief Compliance Officer
Cyber Security/Risk/Compliance Teams
Legal
Procurement
Head of Business Units
Technology Leaders / Project Managers
Management Professionals / Team Leaders
Digital Consultants
Further information
To learn more about this course, please click here