Duration:
2 years part time
Note:
Induction for the 2023 cohort is Friday 20th January. Saturday 21st would comprise lectures/labs for the relevant modules. These days are in person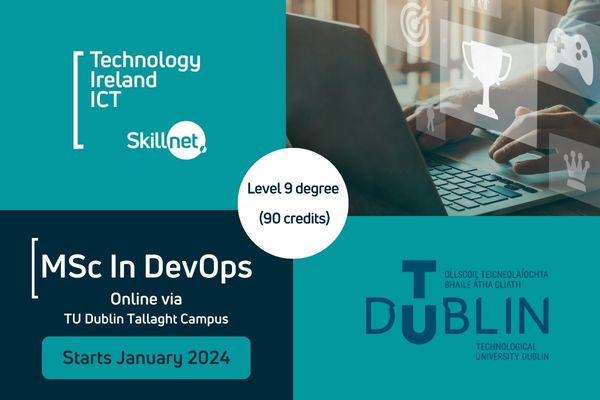 Overview
With most technology organisations moving their delivery platforms to a DevOps approach the shortage of people with cross sectional skills in DevOps is now acute. Developed by industry as a direct response to this need this first-ever Master's degree in DevOps aims to fill these important talent gaps and give credit, recognition and credibility to technologists working in this field.
What are past participants saying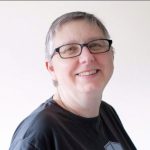 Embarking on a part-time Master's course is a big time commitment but I'm really enjoying it. I've found the lecturers in TU Dublin (Tallaght Campus) to be very knowledgeable and helpful. The course is teaching me an end-to-end technical DevOps skillset combined with a business focus that I can use immediately in my daily work. There are a lot of technologies to consider for DevOps and the course has helped me realise not only which ones are the most useful for my business but also that DevOps is as much about people as it is about technology. Melanie Howes, Vistatec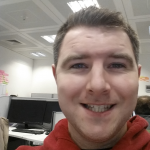 The online M.Sc in DevOps was the ideal delivery method for me to upskill for work, with online lectures recorded, giving me the flexibility to deal with my day job and family life. The content has been informative and covers core concepts from the foundations to case studies in enterprise implementation. The combination of establishing how a DevOps focused organization operates, coupled with some of the latest and greatest DevOps tools has given me the ability to affect real change in my organization and already had a healthy impact on our release cadence and bottom line. I'd recommend this course to anyone who is regularly frustrated in IT and is looking for solid, implementable change strategies and the technical ability to enforce these changes. Dave Hill, Dun & Bradstreet
This course has given me to opportunity go deeper on the DevOps topics that are relevant in the industry today. For example exploring the justifications behind implementing CI/CD or exploring the pros and cons of implementing DevOps teams and strategies for handling the associated culture changes has been beneficial to my day job. We are dealing with these same issues. Having covered these topics on the course gives me the background to speak with more authority when there are decisions to be made. There is obviously a challenge to adding to taking on an additional workload, but the flexibility of attending the classes online has made it so much easier. I can be listening to the lecture and not far from the kids if needed. Conor Tolan, Liberty IT
Why this course was developed
The advantages of Development Teams and Operations Teams collaborating to improve the delivery of technology solutions has meant a rapid adoption of DevOps approaches to the Software Development Lifecycle. Closely associated with Lean and Agile concepts in enhancing the delivery of technology solutions, the DevOps approach has impacted very rapidly on the Technology industry.
Most existing DevOps 'specialists' grow or develop into their role with no formal standards or certification, and a modicum of training in the actual practice of cross functional DevOps practices. They may already be experienced, highly skilled, competent and high performers in their own field of Software Development, Computing, IT Management, or Quality Assurance but they can lack the knowledge and understanding of the other cross functional disciplines they now find themselves working with daily. Understanding not only the technical, but also the business and human factors at play during the high pressure demands of modern software delivery processes, is essential in the modern discipline of DevOps
Award Level
There are two phases to the award.  Candidates are registered for the full Masters of Science in DevOps Level 9 degree (90 credits)  however candidates may opt to exit the programme on successful completion of the first three semesters with 60 credits and receive a Level 9 Postgraduate Diploma in DevOps (60 credits). Please note exit awards are at the discretion of the college and no refund of fees will be due.
The award structure will place greater emphasis on continuous assessment, practical and project work rather than on formal examinations.  In fact there are only 2 modules that carry an actual exam.
The aim is that participants will gain a deep understanding of the topics and content covered, and be able to demonstrate this acquired knowledge as proven competence in tests and exercises drawn from practical "real life" DevOps scenarios.
Programme Delivery
The programme will start with a 3 day workshop which will involve all participants being physically present.  This is seen as important to facilitate networking, experience sharing and group learning.
It is expected that lectures will be delivered one evening per week in term time and every 3-4 weeks there may be a requirement to hold lectures twice in that week.  There will also be a requirement to attend one on-campus day at the end of each semester.
Lectures will be streamed live from TU Dublin (Tallaght Campus) and will be available for download and offline viewing.
Programme Outline
Semester 1: Business Technology, Strategy, IT Infrastructure & Automation
Semester 2: Continuous Software Delivery, Human & Organisational Issues
Semester 3: Advanced IT Infrastructure for DevOps and DevOps in Practice
Semester 4: Research Methods, Research Project
Participant Eligibility
The minimum entry requirement for standard entrants to the course is a 2:2 (GPA 2.5 or equivalent), in a Bachelor of Science in Computing (Level 8) or a cognate discipline or equivalent. Candidates not attaining this standard level must achieve an acceptable standard for progression by other means approved by QQI.
Fees
*Part funded fees are only available to eligible candidates working in private or commercial semi-state organisations in Republic of Ireland.  Fees for 2023 were  €1,695 per person, per annum. Fees maybe subject to change for the 2024 cohort.
How to apply
Click on the button at the top of the page to submit your CV.
The deadline for applications is 7th December 2023