Duration:
Registration - Teas/Coffees at 8am. Starting 8:30-10:30
Location:
Ibec 86 Lower Baggot Street, Dublin 2
Note:
Free but registration is essential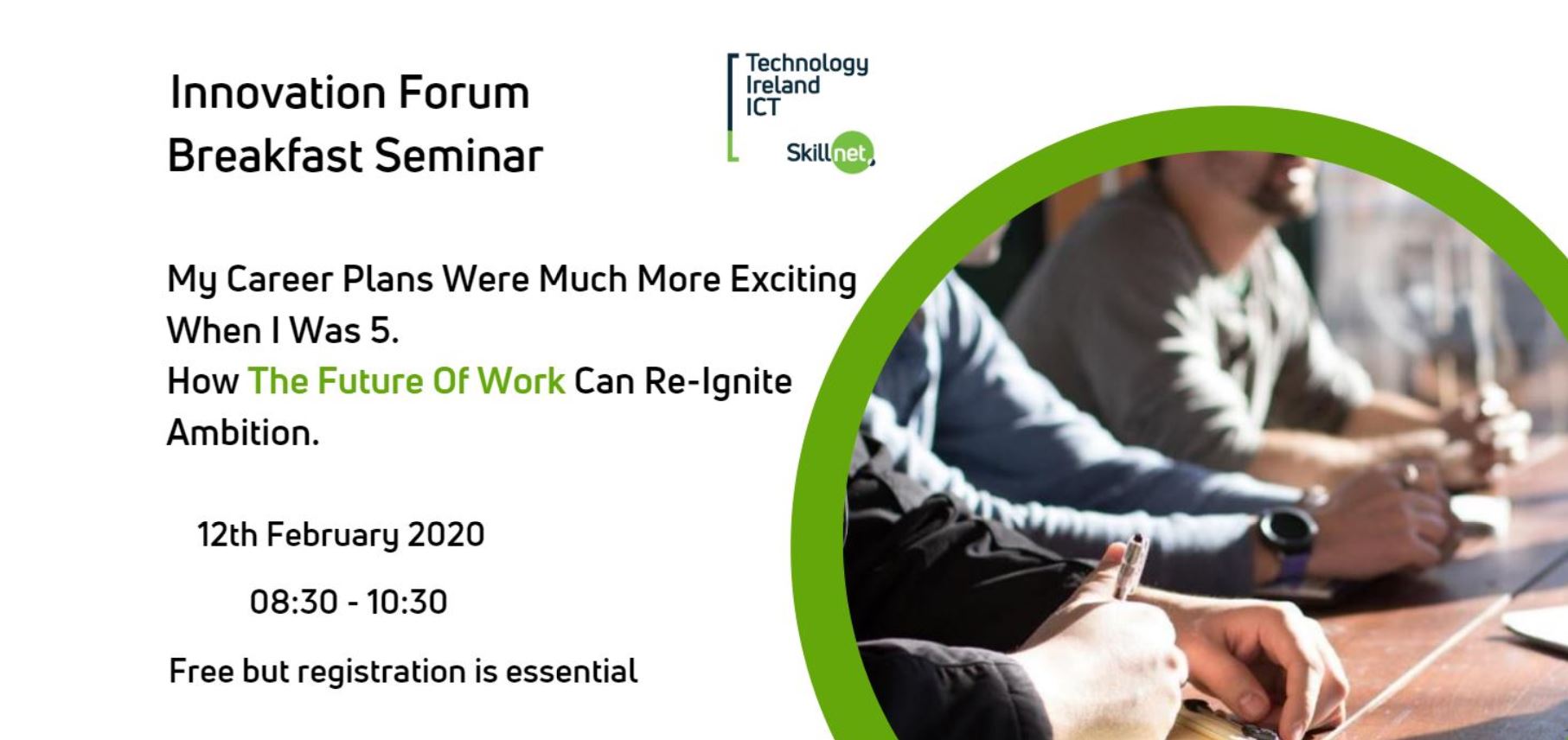 The Technology Ireland ICT Skillnet and its Innovation Forum has recognised there is a spectrum of challenges faced by senior leaders. We wish to provide them with the guidance and support they need to tackle these challenges, providing them with practical solutions, methodologies and thought leaders. The Future of Work is now and at this seminar we intend to introduce you to thought leaders who are at the frontline guiding leaders and management teams to deliver an ambitious, rewarding and fulfilling work environment. How do we balance achieving company excellence with the aspirations of an increasingly sophisticated workforce effectively to provide them with the correct balance of work and wellbeing? Our expert presenters will endeavour to map the route to success!
This seminar will appeal to senior Business/HR/People Management Leaders, Business Transformational & Organisational Culture Change Experts, and individuals involved in Talent Acquisition or Retention.
We are delighted to be joined by Barry Winkless of CPL & Future of Work Institute, Elysia Hegarty from the Future of Work Institute and Carmel Somers an Organisational Psychologist who held the position of Talent Manager for IBM's Ireland Lab. The session will be moderated by Anthony McCauley the Chair of the Technology Ireland Innovation Forum Expert Group.
0800-0830          Registration, teas/coffees.
0830-0840          Welcome – Dave Feenan ICT Skillnet Manager
0840-0850          Introduction to the seminar – Anthony McCauley Chair Innovation Forum & Moderator
0850-0915           "All the Fun of the Fair" Barry Winkless – Director of Strategy & Innovation CPL
"How people's expectations are changing and what it means to be leading in the future of work"
0915-0940           "My Career is Ruining my Health" Elysia Hegarty, Workplace Wellness Lead at the Future of Work Institute
"Overcoming burnout and why both employees and employers need to take a strategic and holistic approach to wellness and work"
0940-1000          "The Future of Work is here! – Keeping Skills & Learning Relevant" Carmel Somers CSCL
"The future of work is here! It's not as futuristic as we might think, so it's time to focus on keeping skills & learning relevant. We must visualise our current roles 3 – 5 years out & act now – this is an employer & employee obligation".
1000-1030          Questions and Answers – Close
Barry Winkless, Cpl's Strategy & Innovation Director & Head of Future of Work Institute
Barry currently drives the strategic direction of Cpl in collaboration with the CEO and senior leadership team. He also leads Cpl's future of work institute, which explores, questions and advises on key areas important to the future of working and the workplace for business leaders globally. Over the past 22 years of his career Barry has worked with, and for, some of the worlds most respected organisations across Pharma, Medtech, FMCG, Financial, Technology, start up and professional services sectors. His core areas of expertise are strategy, innovation, change and engagement and he has led multi-disciplinary teams in delivering significant projects for clients. A frequent author and speaker at international events, Barry is committed to changing the views of what the future of work really means for today and what it could mean for tomorrow.
Elysia Hegarty, Workplace Wellness Lead at the Future of Work Institute
With over 15 years' experience in Human Resource Management and the Wellness Industry Elysia has combined her expertise to partner with businesses to help develop strategies to attract, engage and retain employees. Working within multiple sectors Elysia helps promote a healthy workforce that supports business needs and enhances productivity and engagement. She does this through a range of strategies including workshops, speaking engagements, workplace wellness strategies
and diagnostic assessments. Elysia currently leads the Strategic Wellness service offering within Cpl's Future of Work Institute where she has led the development of a bespoke Wellness Diagnostic Tool helping businesses take a more defined approach to wellness and researched and co-wrote a whitepaper on Strategic Wellness.
Carmel Somers, CSCL
Over a thirty-year career at IBM, Carmel held several local and global roles in research & development, consulting services and operations. Having qualified as an Organisational Psychologist she held the position of Talent Manager for IBM's Ireland Lab, and most recently set-up IBM's first European "Technology for Good" team within IBM's Corporate Social Responsibility division. Since leaving IBM in 2019, Carmel is working as an organisational psychologist helping business leaders implement talent related solutions and best practices to position their organisations & employees for the unfolding future of work. As an advocate for lifelong learning and shaping the workforce of the future, Carmel sits on the Steering Group of Technology Ireland ICT Skillnet, and chairs their Cyber Security Skills Initiative (CSI) Advisory Board.  She is a member of the Innovation Forum and a Cyber Ireland board member.