Duration:
Starts @1pm. Duration, 45 mins (30 min + 15min Q&A)
Note:
Free but registration is essential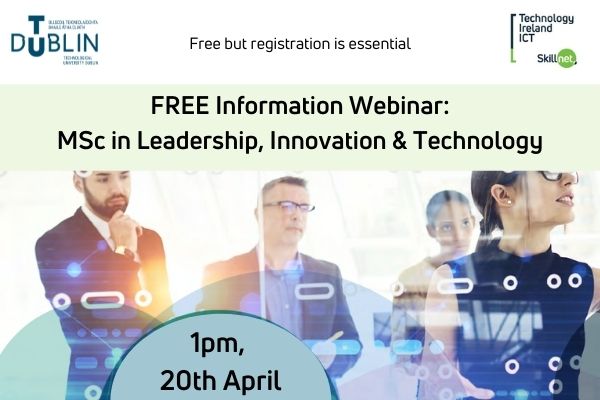 Overview
This new and exciting Masters in Leadership, Innovation & Technology programme will cover all the key areas in leadership, innovation and technology and takes place primarily online.
In this webinar we will discuss the following:
·  The content and what's covered
·  Who it appeals to
·  Accreditation
·  Projects
·  Eligibility / RPL
We will hear from various speakers and how Technology Ireland ICT Skillnet & TU Dublin (Aungier Street Campus)  have designed this programme aimed at existing employees in the ICT sector or employees working in ICT related roles in non-IT companies. (This includes owners and managers of small enterprises.) They are likely to be experienced and either in leadership roles or planning on moving into such positions.
We will also hear from a student who is currently undertaking the programme.
Please Register Here
Speakers
Presenter Bio: Maebh Coleman, TU Dublin
The recipient of several technology & educational rewards:
Winner of 2021 Irish Education Award in ICT for Education
Finalist in 2020 European Research Methods Awards
Teaching Fellow 2019 Co-Create TU Dublin project
Maébh is currently
Programme Chair of MSc Leadership Innovation & Technology
Lecturer in Information Systems and Technology Management
Successful e-learning consultant to government, non government organisations and SMEs
And was formerly
Research & Innovation Manager in Robotics and Automation
Programme Manager in TTO (NUIG) and CTO (Victorian Government)

Presenter Bio: Dr. Roisin Donnelly, Head of the School of Management in the Faculty of Business, TU Dublin

Dr Roisin Donnelly is Head of the School of Management in the Faculty of Business, TU Dublin; previously she was a Head of Learning Development in the College of Business 2018-20, and before that, spent 15+ years as an academic/learning developer, supporting all academic roles and teams of discipline-based academics, curriculum innovators and digital educators across DIT/TU Dublin in enhancing learning, teaching and assessment (LTA) and supporting pedagogic scholarship in this broad domain. From 2017-21, she also worked at national level as Sectoral Project Manager as part of the National Forum team for the Enhancement of Teaching and Learning, supporting the strategic enhancement of LTA and the professional development of all who teach in Irish higher education.
Presenter Bio: Sara Moore, Student. Innovation Manager – Transformation & Change