Duration:
2 years part-time
Location:
Online via Dublin City University*
Grant Aided Fee:
€3,150 per annum for eligible candidates**
Note:
*Some on campus time may be required for exams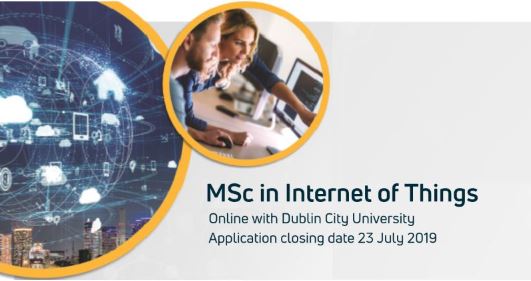 The Internet of Things (IoT) is a computing concept describing the interconnectivity and collaboration of a wide variety of everyday physical objects connected via the Internet. Rapid IoT development has been driven by ongoing research and technological advances (notably in 5G mobile communications and in Artificial Intelligence). IoT technologies are enabling a wide range of business opportunities in the context of "smart" homes, neighbourhoods and cities and in the exploitation of intelligent infrastructure and services, in areas such as transport, power and healthcare.
This programme, leading to a final Award of MSc in Electronic and Computer Technology (IoT) is being sponsored by the Technology Ireland ICT Skillnet and developed and delivered by Dublin City University (DCU). It aims to provide a pathway for existing ICT professionals and those wishing to convert from associated disciplines to acquire the necessary skills to pursue careers in the IoT technology and applications domain.
The MSc (in Electronic and Computer Technology) Internet of Things is designed to meet the demand for a new kind of IT specialist and skills, those who can:
engineer new interactive products – things;
acquire, fuse and process the data they collect from things;
interact with, and interconnect these things as part of larger, more diverse, systems
The course is aimed at those employed in Republic of Ireland registered companies. The minimum entry requirement for standard entrants to the programme is a 2.2 (GPA 2.5 or equivalent), in a Level 8 primary degree in Computing/Engineering or an equivalent cognate discipline. Candidates not attaining this standard level may be offered the option of undertaking a 'qualifier' subset of the programme modules which, if successfully completed, would allow them to continue with the main programme (with credit)
Eligible candidates can avail of funding to reduce course fees to €3,150 per annum.
Eligible candidates are those awarded a place by the college AND who are working in private or commercial semi-state organisations in Republic of Ireland.
Applications are now being taken for a September 2019 start.  The closing date is 23rd July 2019.
To apply candidates should, in the first instance, submit their CV by clicking on the button at the top of the page.