Duration:
2 years part-time
Location:
Online via NUI Galway*
Grant Aided Fee:
€2,950 per annum for eligible candidates**
Note:
*Some on campus time will be required for exams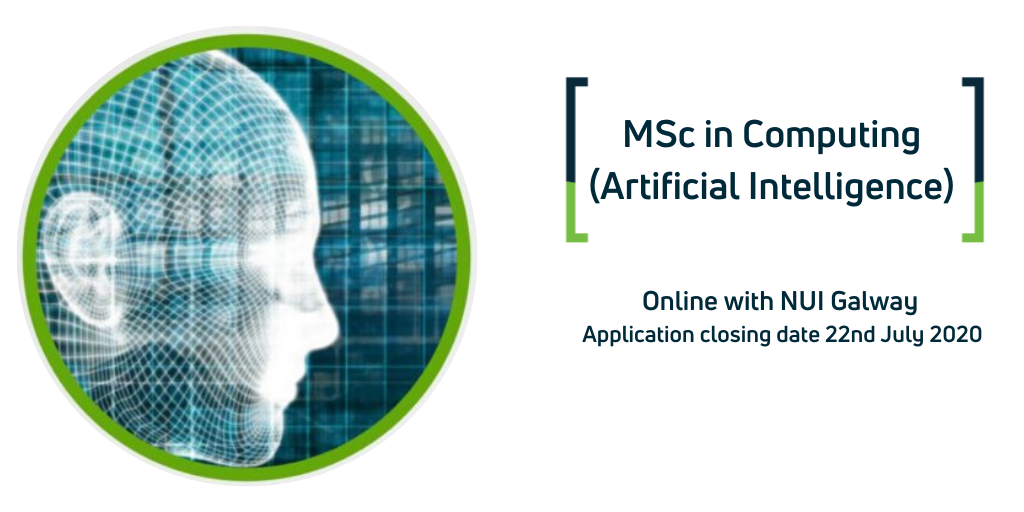 What Is Artificial Intelligence? (AI)
Artificial Intelligence (AI) has been at the forefront of computer science research for over 50 years. In recent years a confluence of breakthroughs in hardware capability and insights into algorithm design have made the early promise of intelligent machines a reality. AI is one of  the  fastest growing areas of ICT industry and research.
It has the potential to positively transform every aspect of all our lives, from smart cities and autonomous vehicles, through to improved healthcare services and low-carbon economies.
ICT Skillnet – MSc in Computer Science (AI)
This innovative online M.Sc. in Artificial Intelligence is a two year course which will equip the student with stateof-the-art knowledge and practical skills that are increasingly sought after in industry today.
Who Should Apply?
This MSc is targeted at people currently working in industry who wish to significantly deepen their computing skills through a specialisation in Artificial Intelligence. Candidates must have a strong 2.2 level 8 computer science degree or a strong 2.2 level 8 science / engineering degree that provides extensive training in computing.
Candidates who do not meet this requirement but are deemed by the programme director to have reached an equivalent standard will also be considered. Candidates must be EU/EEA nationals or working in Ireland on an Irish Employment Permit.
What Are The Course Fees?
Eligible candidates can avail of funding to reduce course fees to €2,950 per annum. Eligible candidates are those awarded a place by the college AND who are working in private or commercial semi-state organisations in Republic of Ireland.
What is The Application Closing Date?
Applications are now being taken for a September start.  The closing date is Friday The 12th August 2022.  To apply candidates should, in the first instance, submit their CV by clicking on the button at the top of this page.