Duration:
2 years part-time (4 semesters)
Location:
Online via National College of Ireland
Note:
Classes are online and will be held on Tuesdays and Thursdays from 6-10pm and every second Saturday.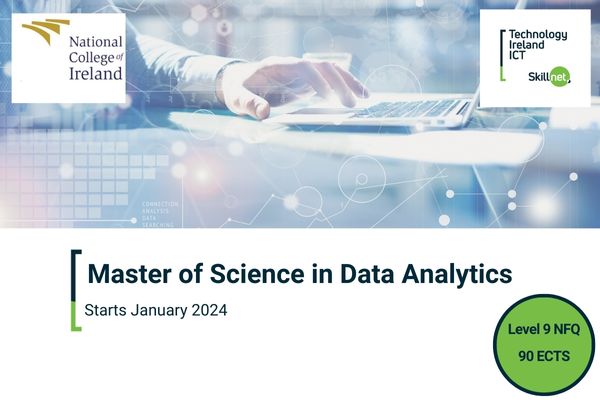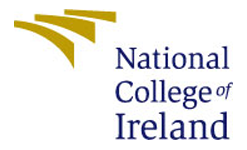 Overview
This online MSc in Data Analytics will equip candidates with up to date knowledge and practical skills that are increasingly sought after in a wide and growing range of industries.
The course is designed to accommodate those with a specific interest in data analytics, whether that may be of a more technical or a more business focused nature. The programme is led by expert faculty and is delivered online using academic research, industry-defined problems and case studies.
Data Analytics is one of the fastest growing areas of IT, across a variety of organisations and industries, and remains critical for businesses as it turns information into an asset for deriving insights and making decisions.
Why study this programme?
This innovative programme is suitable for entrants to the discipline that require a broader range of taught modules to familiarise themselves with the skills and knowledge of the discipline and also for for specialist employees who want to up-skill in their specialist areas and require a narrow range of taught modules and more emphasis on the research skills project of the programme.
A unique feature of this course is the strong collaboration between industry and academia in its development. The programme is taught over 2 years and is delivered completely online using state-of-the-art technologies and techniques to support the virtual classroom. The part-time element is to help busy professionals to study and work at the same time and as the programme is designed from an applied perspective, all learnings in the classroom can immediately be incorporated into the work environment.
Eligibility Criteria
Candidates must have a Level 8 Honours Degree with a 2.2 award or higher on the National Framework of Qualifications. Candidates may be from a cognate/STEM (science, technology, engineering or mathematics) background. Standard applicants for the programme are those holding computing or numerate degrees.
For candidates who do not have the minimum entry requirements, the college operates a Recognition of Prior Experiential Learning (RPEL) scheme meaning applicants who do not meet the normal academic requirements may be considered based on relevant work and other experience.
Candidates must be working in private or commercial semi-state organisations in the Republic of Ireland to avail of the part-funded fee.
Fees
*Part funded fees are only available to eligible candidates working in private or commercial semi-state organisations in Republic of Ireland.
How to apply
Click on the button at the top of the page to submit your CV.
The deadline for applications is 30th November 2023