Duration:
45 mins (30 min + 15min Q&A)
Note:
Free but registration is essential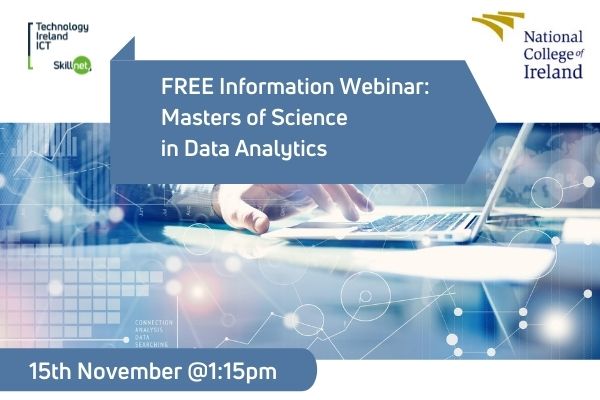 Overview
In this webinar we will discuss what the future Data Analytic  requirements are. We will hear from various speakers and how they have responded to the increasing need to up- and re-skill and how Technology Ireland ICT Skillnet & National College of Ireland have designed this programme aimed at those interested in Data Analytics
The course is designed to accommodate those with a specific interest in data analytics, whether that may be of a more technical or a more business focused nature. The programme is led by expert faculty and is delivered online using academic research, industry-defined problems and case studies.
Data Analytics is one of the fastest growing areas of IT, across a variety of organisations and industries, and remains critical for businesses as it turns information into an asset for deriving insights and making decisions.
Our guest speakers will include the Dr. Anu Sahni, the  Program Director for the MSc Data Analytics at National College of Ireland , along with Anthony McCauley and a first year student of this years cohort of the MSc in Data Analytics
Speakers
Presenter Bio: Anu Sahni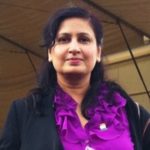 Dr Anu Sahni is a Program Director of MSC Data Analytics and Program Director of Innovation and Commercialisation at NCI. She has worked on over 100 innovative projects with organisations ranging from start-ups to globally recognised names such as the British Library and Microsoft Research, USA. She was the PI of an Innovation Partnership project in Data Analytics, and has collaborated with over 30 companies. Anu has been awarded a Special Commendation as the Best Achiever at the KTI Awards 2019.
Presenter Bio: Anthony McCauley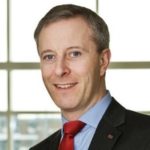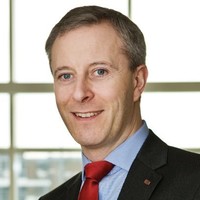 Anthony is a business strategist and the former Head of R&D at Fujitsu Ireland. He is commercially driven with a track-record of delivering market-led innovation through customer engagement. He transformed the Fujitsu Ireland brand from managed service provider to research-led innovator. He has extensive experienced leading multi-disciplined teams, building global relationships and communities building ecosystems and governance models to support collaboration.
This determination creates new business solutions, through adoption of emerging technologies aligned to A.I., IoT and advanced analytics. He is the Chair of the Technology Ireland ICT Skillnet Expert Group targeting the growth of new business collaboration across Academia, Business and State Agencies. He is also a member of the National Standards Authority of Ireland ISO committee on Innovation Management and the NSAI mirror committee on Artificial Intelligence (JTC 1 SC 42).