Duration:
45 mins (30 min + 15min Q&A)
Note:
Free but registration is essential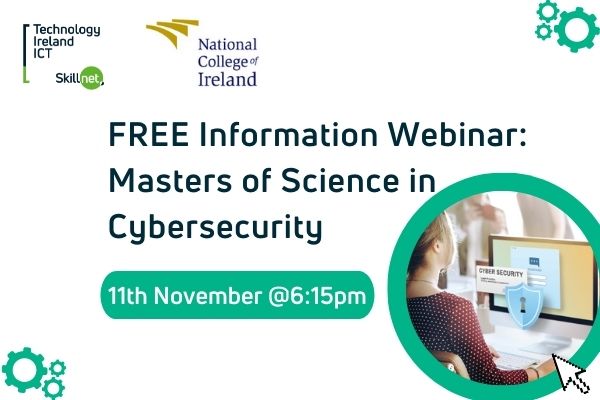 Overview
Cybersecurity is an essential need for a modern society in which information technology and services pervade every aspect of our lives. Cybersecurity has the fastest growth rate among all areas of IT, with the labour market encountering a severe workforce shortage in this field.  This Online MSc in Cybersecurity will equip the student with state-of-the-art knowledge and practical skills that are increasingly sought after in industry today.
In this webinar we will discuss what the future Cyber Security requirements are. We will hear from various speakers and how they have responded to the increasing need to up- and re-skill and how Technology Ireland ICT Skillnet & National College of Ireland have designed this programme aimed at those interested in Cybersecurity
Our guest speakers will include Dr. Vanessa Ayala-Rivera one of the lecturers of the MSc in Cyber Security at NCI, along with Carmel Somers one of a Cyber Irelands Board members and a first year student of this years cohort of the MSc in Cybersecurity
Speakers
Presenter Bio: Dr. 
Vanessa

 Ayala-Rivera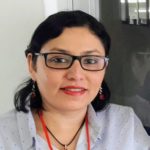 Dr. Vanessa Ayala-Rivera is a lecturer in Computing and program director for the Postgraduate Diploma in Cybersecurity and the MSc in Cybersecurity part-time at the National College of Ireland. She received a Ph.D. degree from University College Dublin (Ireland) in 2017. Dr. Ayala-Rivera is also an experienced IT professional in the software development industry. Her research interest includes software engineering, data security and privacy, AI/ML in cybersecurity, and software compliance with data protection regulations. She has served on the Program Committee of prestigious scientific conferences. She is also a reviewer in scientific journals and conferences such as the IEEE TSE journal, the TDP journal, and the IET Software Journal.
Presenter Bio: Carmel Somers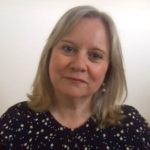 Over a thirty-year career at IBM, Carmel held several local and global roles in research and development, consulting services and operations. Having qualified as an Organisational Psychologist she held the position of Talent Manager for IBM's Ireland Lab, and most recently set-up IBM's first European "Technology for Good" team within IBM's Corporate Social Responsibility division. Since leaving IBM in 2019, Carmel is working as an organisational psychologist helping business leaders implement talent related solutions and best practices to position their organisations & employees for the unfolding future of work.
As an advocate for lifelong learning and shaping the workforce of the future, Carmel sits on the Steering Group of Technology Ireland ICT Skillnet, and chairs their Cyber Security Skills Initiative (CSI) Advisory Board. She is a member of the Innovation Forum and a Cyber Ireland board member and works closely with the ICT Skillnet to develop the Workplace of the Future.