Duration:
45 mins (30 min + 15min Q&A)
Location:
Online Webinar @2pm
Note:
Free but registration is essential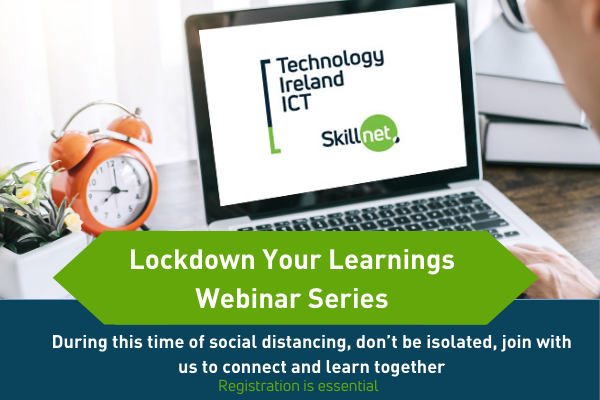 Overview
We want to help you stay up to date, feel connected and make best use of this remote working lifestyle we've all had to adapt to. Every month we will be holding 45 minute webinars covering a multitude of topics with special guest speakers.
During this time of social distancing, don't be isolated, join with us to connect and learn together.
Lockdown Your Learnings: Cyber Security – 15th of April
Click here to watch the recorded webinar
More than a year into the global pandemic, what have been the long term effects of mass remote working? How have cyber threats evolved during the pandemic, and what, if any, new threats are emerging?
Are workers just as safe at home from a security perspective, as they were in the office?
What can we expect from the next 12 months, as vaccines roll out and the end of the worst of the restrictions might be in sight?
Join journalist and commentator, Paul Hearns, to explore these and other cyber security issues with a panel of experts. In an open discussion format, these issues and more will be explored, along with the opportunity to address the experts and gain the insights you need to keep your organisation safe, secure and productive for the next 12 months
Presenter Bio: Paul Hearns
Paul Hearns is a journalists, commentator and presenter, with more than twenty years' experience in the ICT sector.
Former editor of TechPro and presenter of the TechFire series, he has been an influential voice analysing and documenting the development of information technology in Ireland.
Presenter Bio: Brian Honan, CEO & Principal Consultant, BH Consulting
Brian is a highly experienced information security professional and is recognised as one of the foremost experts in cybersecurity. Over his career, he has managed and delivered information security projects and services to organisations of varying sizes, from SMEs to large companies and multinationals.
He has worked extensively with Government departments and agencies and is a trusted advisor for a number of bodies and think tanks, at national and international levels, in the area of cyber security. Brian is a former special advisor on cyber security to Europol's Cyber Crime Centre (EC3), and has acted as an expert advisor to the European Union Agency for Network and Information Security (ENISA). Brian is also the founder and leader of IRISSCERT which is Ireland's first Computer Emergency Response Team (CERT).
Brian regularly presents at various industry conferences around the globe, has authored a number of books, and is a regular contributor to various industry publications.
Presenter Bio: Mathieu Gorge, CEO, Vigitrust
Mathieu is a global data security, information governance, and compliance subject matter expert with over twenty years of experience. He is the CEO and founder of VigiTrust, which provides integrated risk management (IRM) SaaS solutions to clients in 120 countries in the hospitality, retail, transportation, higher education, government, healthcare, and e-commerce industries. 
An award-winning CEO for innovation, excellence, and security and compliance expertise, Mathieu has dedicated himself to helping CEOs, CXOs, and boards of directors manage cyber accountability challenges and focus on opportunities that good cyber hygiene and proactive cybersecurity compliance programs can bring to firms. 
Mathieu regularly speaks at international security conferences, due in no small part to his reputation, experience, and the success of VigiTrust's 5 Pillars of Security Framework(tm).
Presenter Bio: Micheal Conway Renaissance Contingency Services
Michael is an IT industry veteran, and co-founder of value added distributer Renaissance. An expert in business continuity and disaster recovery, he is an author and commentator as well as an experienced presenter and speaker on cyber security. 
Presenter Bio: Carmel Somers: 
Carmel is an Organisational Psychologist and is Technology Ireland ICT Skillnet's Human Capital Strategist supporting organisations in Ireland develop and implement their future of work strategies.  Prior to joining ICT Skillnet, Carmel held a number of senior roles in research & development, consulting services, operations and "technology for good" at IBM.  Carmel is chair of Technology Ireland ICT Skillnet's Cybersecurity Skills Initiative (CSI), and a member of the board of Cyber Ireland where she leads the Talent & Skills working group.  In addition, she is a member of the Education and Skills working group of Blockchain Ireland and a member of the External Advisory Board of the Irish Institute of Digital Business (DCU).

Presenter Bio: Paul C Dwyer, CEO, Cyber Risk International
Founder and President of the International Cyber Threat Task Force and recognised as one of the world's foremost experts on cyber security, risk and privacy. He specialises in corporate and enterprise security, development of cyber defence programs, and business operations protection for CRI clients. With responsibility for the protection of trillions of euros in global money movement and critical infrastructure technologies that protect hundreds of thousands of companies' and governments' interests in more than 100 countries.
He has been certified an industry professional by the International Information Security Certification Consortium (ISC2) and the Information System Audit and Control Association (ISACA) and selected for the IT Governance Expert Panel. Approved by the National Crime Faculty and the HTCN High Tech Crime Network.
Paul has worked extensively around the world and his diverse career spans more than 25 years working with military, law enforcement, and the commercial sector. President of the ICTTF
Previous Webinars
Lockdown Your Learnings: Taking the leaders to AI
Click here to watch the recorded webinar
Business leaders are struggling to implement advanced digital technologies, such as artificial intelligence, to achieve the growth, competitiveness and service differentiation promised.
According to research by Accenture, AI is the power behind digital reinvention. When combined with other powerful digital technologies, "AI creates Industry X.0 products," evolving with businesses and their supply chains continually enhancing the customer experience.
"If industrial incumbents can establish such digitally reinvented products in the market at scale, they will dramatically boost top-line growth, and thus their market capitalisation," said Accenture.
However, despite nearly 70% believing in the transformative power of AI, only 16% turn the conviction into a commercially viable vision. Furthermore, just 5% commit senior management and resources to embed AI. Worryingly, only 2% reported achieving the scale needed to drive market value from their digitally reinvented products.
One reason given for such challenges is that frameworks and roadmaps for adoption and implementation are not designed with business leaders in mind.
Is there a need for a new round of skills development, aimed specifically at business leaders, to focus on business benefits, competitive advantage, and how to structure organisations to realise the value-add that AI can deliver?
Do leaders need to be led to embrace AI?
Join Paul Hearns as he hosts Anthony McCauley and Gavin Shorten as they explore how business leaders need to be prepared for the AI lead.
Presenter Bio: Paul Hearns
Paul Hearns is a journalists, commentator and presenter, with more than twenty years' experience in the ICT sector.
Former editor of TechPro and presenter of the TechFire series, he has been an influential voice analysing and documenting the development of information technology in Ireland.
Presenter Bio: Anthony McCauley
Anthony is Strategic Advisor to Skillnet Ireland in the area of advanced digital technologies and the former Head of Research and Innovation at Fujitsu with responsibility for developing health solutions to improve the analysis of data for emergency care and drug development using AI. He has a keen interest in how best to build collaborations to facilitate effective industry adoption of emerging and advanced technologies within commercial organisations.
Presenter Bio: Dr Gavin Shorten
Dr Shorten is the Programme Delivery Manager for the IBM Cloud and AI Foundry. This new initiative focuses on the commercialisation of R&D through product and service delivery. IBM has a particular focus on the delivery of AI and Cloud solutions combining bleeding edge technology with Enterprise IT.
Gavin is a veteran of IBM's Innovation Lab and supporting innovative programmes.
Please note links will be issued separately after you have registered