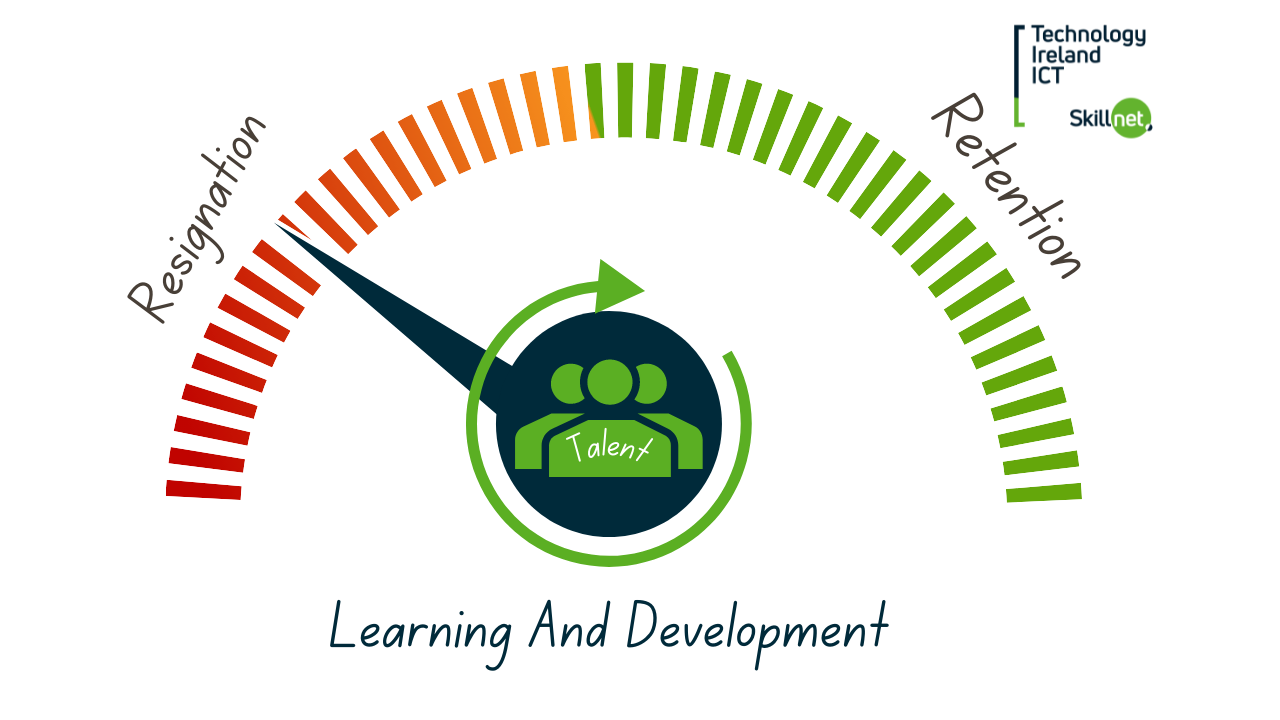 Learning & Development
In previous blogs in this series we looked at what is driving talent to leave organisations and mitigation strategies leaders might implement to retain key talent. This blog will focus on how learning and development (L&D) is critical to engaging and retaining talent, by making them feel valued and enabling their career growth. If an employee does not feel valued at work, 76% look for another job opportunity, and research by Culture Amp indicates that 54% of retention is associated with the employee's recognising that their company contributes to their development. A Harvard Business Review article in 2021 states that 94% of employees would stay with a company longer if it invested in developing their career.
Many surveys are demonstrating a lack of career growth as the number one factor preventing employees feeling engaged at work, and a key area for employers to focus on, to retain talent and remain competitive.  Business leaders are aware of the benefits that accrue for the organisation when they invest in learning and development for their employees.  Key for every business is that their L&D investment results in employees gaining the skills and competencies to perform at optimum levels in their roles and for the business to achieve its objectives.
Development is no longer an optional perk, or something reserved for certain organisational positions – it's expected by today's employees. Skills development is one of the top perks younger workers are looking for in a job according to a 2021 Gallup survey conducted for Amazon.  Two thirds of workers between the ages of 18 and 24 ranked learning new skills as the third most important perk when evaluating job opportunities. Notable, is the fact that 53% of workers over 55 years of age report that upskilling is "very" or "extremely" important.  Therefore, employers who provide opportunities for upskilling indicate to employees that they value their people and are interested in contributing to their success.
Skills can be defined as the expertise and productive characteristics that workers use to complete tasks.  In today's business environment, skills are increasing in value. Educational attainment and occupational roles are linked to pay, with the highest paying jobs typically seeking skills learned through education and experience. As employers search for more skilled workers, employees can benefit from gaining new skills, since skills and pay tend to increase in line with each other.
Business leaders need to prioritise learning and development to address the realities of the pandemic years, so that employees feel valued and optimistic about the future.  Organisations who invest in learning and development experience the knock-on effect of employees feeling valued, and it sends a strong message of how the organisation is preparing and investing for the future.  This inspires confidence in employees, so they are more likely to remain with the organisation. The following is some guidance for business leaders, who can work with their HR or L&D teams to design and implement a learning and development strategy that will work for the organisation.
A Learning & Development Plan
A great starting point for an L&D plan is to evaluate the strengths and weaknesses of each employee.  What skills do they lack, or need to develop further to help them improve their productivity and progress their career?  What roles and skills are needed to help the organisation meets its objectives?  An impactful L&D plan will combine the needs of the organisation and the aspirations of the employees. In addition, by providing opportunities for an employee to gain a skill they want, even if it is not directly transferable to their role, indicates to the employee that their personal growth is as important to the organisation as their productivity.  Create a plan or learning journey for each employee and discuss and agree with them the learning matrix of activities and targets to be attained.
Learning Programme
Many organisations are moving away from expensive offsite learning and providing more focused micro based learning options.  These can include lectures, videos, podcasts, simulations, individual or group-based assignments, mentoring sessions and more, and are attractive to employees who can get just the right level of learning when, and where they need it. Giving employees the freedom to choose the type of training that matches their learning style is a great way to upskill a broad spectrum of employees.  We shouldn't however forget that there are a range of cost effective learning options for employees wishing to take further education or short courses outside the workplace (see Technology Ireland ICT Skillnet Programmes).
When organisations provide learning and development programmes, it sends a strong message about the organisation's culture.  As many organisations aim to create a culture of life-long learning (LLL), investing in L&D acknowledges how much the company values education, and growth for its employees.  Creating a company culture where employees feel they can grow, develop and belong, helps retain talent, but also attracts new talent, as employees are more likely to recommend working at their company to other people.
There are a range of learning and development options aside from formal training that organisations can implement to grow and develop employees including:
1. Conferences
Attending or participating in conferences is a great way to sharpen an employee's skills and expose them to other individuals and organisations in their sector.  Conferences increase awareness and training on relevant work topics, and it is often possible for the employee to choose specific conference sessions that are of particular interest to them.
2.  Job Rotation
Facilitates the learning of new tasks or to practice skills that have already been gained by the employee through training or education.  It is also a great way to reduce the monotony of the day job and help create the right employee-job fit or the potential next role for the employee.
3. Coaching
Coaching involves an unskilled employee working one to one with a skilled employee in a particular discipline. Undergoing coaching can help the employee understand and engage in a variety of topics and processes in a short amount of time
4. Mentoring
Pairing employees knowledgeable in a particular discipline with one who need to improve their skills in that area.  The mentors tend to be in senior level roles, such as leaders or executives, however any skilled employee can mentor less experienced employees.
5. Working Groups
Are a chance for an employee to interact with their peers and colleagues. These colleagues/peers can be from within or outside the organisation.  Typically taking part in a working group enables employees gain knowledge, skills, or improve their research and analytical skills while working towards a particular work group goal.
6. Guest Speakers
Reach out to your network of business associates and clients.  There may be one who would be willing to speak to your employees on a particular topic.  You may be asked to speak to their employees which could foster new or further collaboration
7. Lunch and Learn
Consider making an expert's talk or presentation a regular event. Many companies have successfully offered educational topics during lunch time – sometimes referred to as brown bag sessions, where you bring your lunch along if it's not provided.  These tend to be popular because they don't intrude on most employees working day, and speakers/presenters can be from within or outside the organisation.  It is also a great way for internal employees to present at this forum, which helps raise their profile in the organisation, and generates awareness of skills or knowledge they possess.
8. Networking
Assist employees in growing their network to help them strengthen connections with professionals inside or outside the organization.  Internal networking is something many of us do naturally every day, though some may need introductions to get started.  Internal networking is about creating a group of people who come to know the employee and will help them if they can. Engaging in casual conversation with employees in their network from different parts of the organisation, helps the employee gain useful information such as new industry and business trends, new projects that may lead to  role opportunities, or gain a better understanding of the company mission and vision.  This has the added advantage of lower rates of employee turnover because employees feel connected and tend to have a clearer picture of their organisation's purpose.
9. Measure the impact
It is important to measure the impact of any L&D programme on business performance. The type of training and the stated goal will determine how you measure the ROI on your learning and development investment.  Functional training can be linked directly to metrics of team performance, such as sales growth, conversion rates, increased production or lower defects.  There has long been a belief that evaluating the effectiveness of soft-skills training is difficult if not impossible, however we are seeing a growing body of research indicating some good measurement options.  It is often advised to start from the consumer's perspective rather than the business when evaluating soft skills. Measurements can be obtained by evaluating how your clients rate / experience certain behaviours which can determine the effectiveness of soft skills development.  Measuring soft skills effectiveness can be done through 360-degree feedback instruments to get input from those who interact most frequently with the subject of the feedback, employee engagement surveys and establishing metrics related to behaviours that demonstrate soft skills
Summary
Learning & Development opportunities have a positive impact on employee retention rates and, when we consider it costs five times more to hire a new employee, than to keep an existing staff member, there is also a strong economic argument to invest in L&D.  Eighty percent of workers globally believe they will be more productive if they learn new skills according to a survey conducted by UiPath as noted by businesswire in June 2020.  Research from Gallup in 2021 identified that today's workforce has come to expect training and development opportunities as a core employment benefit. Their study found that 87% of millennials see learning and development opportunities as an key factor when deciding to accept a new job.   It is expected that millennials will make up 50% of the workforce by 2025, so business leaders need to be cognisant of this and look to invest in L&D opportunities for all employees, both to attract and retain them.
In our next Talent Retention blog post – the last in the series, we'll look at employee retention as it relates to employer brand and culture.
How can Technology Ireland ICT Skillnet Help?
If any of the areas covered in this blog resonate with you, and you would like the opportunity to discuss how we can help you move the dial from resignation to talent retention, please feel free to get in touch with me at carmel.somers@ictskillnet.ie and I will be happy to arrange a time for an informal chat.