Note:
Refunds up to 1 day before event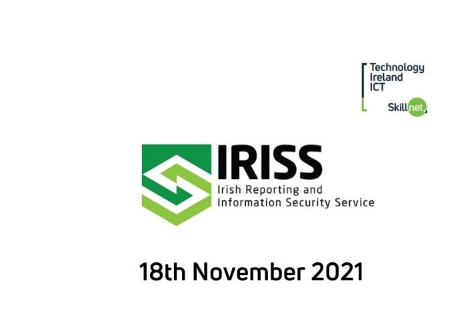 About this event
We are delighted to sponsor the 2021 IRISSCERT conference!
IRISSCERT holds an annual conference themed on cyber crime in November. This is an all day conference which focuses on providing attendees with an overview of the current cyber threats facing businesses in Ireland and what they can do to help deal with those threats.
Experts on various aspects of cyber crime and cyber security share their thoughts and experiences with attendees, while a number of panel sessions will provide the opportunity to discuss the issues that matter most. Our speakers this year include
The conference will be open to anyone with the responsibility for securing their business information assets. There is a nominal fee of €50 per person attending to cover the costs of catering and other organisational expenses.
The IRISS Annual Conference is an opportunity to not only increase your knowledge but also to meet and network with your peers in a relaxed environment.
We have also negotiated a special delegate rate for those wishing to stay in the conference hotel. If you wish to avail of this send an email to info@iriss.ie to get the discount code.
IRISSCERT CYBERCHALLENGE
In parallel to the conference, IRISSCERT and the Irish Honeynet Project also hosts Ireland's premier Cyber Security Challenge to identify Ireland's top cyber security experts.  Teams will compete against each other in a controlled environment to see who will be the first to exploit weaknesses in a number of systems and declare victory. The purpose of the competition is to demonstrate how attackers could gain access to your systems and allow you to learn from the event on how to prevent such attacks from impacting your network. To Enter the competition please select the cyberchallenge tickets below, note that registering for the Cyberchallenge includes registration and access to the Cyber Crime conference.
IRISSCERT AND TECHNOLOGY IRELAND ICT SKILLNET
This year our conference is being run in partnership with Technology Ireland ICT Skillnet. Technology Ireland ICT Skillnet is a network of companies who collaborate to address skills needs within the technology sector. Everything we do is enterprise led, demand driven talent development and delivered to drive continuous improvement within enterprises. We believe that high quality, focused education and training unlocks unrealised potential, and improves employee retention, satisfaction and productivity.
At the core of the Technology Ireland ICT Skillnet portfolio is the unique access to industry-led programmes and domain expertise for the development of the technology skills and competencies to help deliver impactful and tangible benefits for your organisation.
Today, the rapid changes in technology, the new business models and the move towards digital transformation, can be daunting for any organisation. By constantly horizon scanning and creating innovative programmes for industry which reflect this ever-changing landscape, we can assist you in adding new assets to your balance sheet namely "Skills, Competencies and Human Capital".
Your Future of Work journey is our journey. Contact us today and join the growing number of organisations leveraging our expertise.
Technology Ireland ICT Skillnet is co-funded by Skillnet Ireland and network companies. Skillnet Ireland is funded from the National Training Fund through the Department of Further and Higher Education, Research, Innovation and Science.