Location:
Online @12:00pm
Note:
Free to attend, registration essential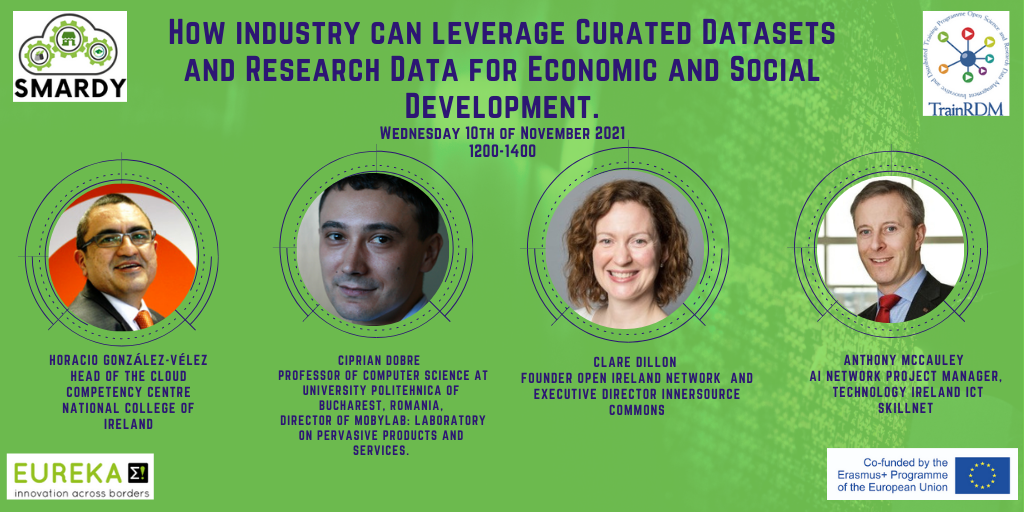 Overview
Interested to understand how a marketplace could facilitate academia, industry, and government exchanging curated datasets, technology, and tools to foster economic and social development? Interested to understand how by leveraging Open Science (OS) new ways in which research, education and innovation are undertaken, archived, and curated, and disseminated across the globe? If the answer is YES, join us at our industry focused workshop underpinned by the SMARDY and TrainRDM EU projects where we examine the opportunities through an industry lens.
Agenda
12:00 – 12:10 pm – Welcome  – Professor Jimmy Hill, Vice President National College of Ireland.
12:10 – 12:20 pm – TrainRDM Project Overview – Ciprian Dobre, Professor University Politehnica of Bucharest
12:20 – 12:30 pm – SMARDY Project Overview – Horacio González-Vélez, Head of the Cloud Competency at the National College of Ireland
12:30 – 12:40 pm – Introduction – Paul Hearns, Moderator
12:40 – 13:05 pm – "The Future is Open: How Open Source Software is Now Eating the World" – Clare Dillon Founder Open Network Ireland and Executive Director InnerSource Commons
13:05 – 13:30 pm – "In God we Trust, Everyone Else Bring Data" – Anthony McCauley AI Network Project Manager ICT Skillnet
13:30 – 13:55 pm – Q&A Moderated by Paul Hearns
13:30 – 14:00 pm – Close
Horacio González-Vélez – Head of the Cloud Competency Centre  – National College of Ireland
With twenty years of experience in the technology industry and academia, Horacio joined the National College of Ireland to start the Cloud Competency Centre in 2012. He directs the NCI's cloud and data analytics infrastructure, postgraduate programmes, and research & innovation initiatives. He is an academic representative to the Steering Group of Technology Ireland Innovation Forum/ICT Skillnet.
Horacio started his career as a true dot-commer working in HPC systems engineering and product marketing for innovation-driven companies Silicon Graphics and Sun Microsystems. He later did a PhD and a postdoc in computer science at the University of Edinburgh.
Ciprian Dobre –  Professor of computer science at University Politehnica of Bucharest, Romania, and director of MobyLab: Laboratory on Pervasive Products and Services.
His research interests involve mobile wireless networks and computing applications, pervasive services, context awareness, and people-centric sensing. He is currently the Vice-Dean of the Faculty of Automatic Control and Computers and Senior Researcher with the National Institute for Research-Development in Informatics. He has been principal investigator in a number of national and international research projects, and has received the IBM Faculty Award, CENIC Awards, and Best Paper Awards. He serves on the Steering and Organization Committees of major conferences.
Clare Dillon –  Founder Open Ireland Network  and Executive Director InnerSource Commons
Clare Dillon is the Executive Director of InnerSource Commons, the world's largest community of InnerSource practitioners. Clare has been involved with InnerSource Commons since early 2019, when she helped set up NearForm's InnerSource practice. Before that, Clare was a member of the Microsoft Ireland Leadership Team, heading up their Developer Evangelism and Experience Group. In early 2021, Clare helped found the Open Ireland Network, a community for those interested in the open ecosystem in Ireland.
Clare also works with the OSPO++ Network to support the establishment of University and Government Open Source Program Offices globally, that can collaborate to implement public policy and trustworthy public services. Clare frequently speaks at international conferences and corporate events on topics relating to the open collaboration, future of work, innovation trends and digital ethics.
Anthony McCauley – AI Network Project Manager –  Technology Ireland ICT Skillnet
Anthony is the former Head of Research and Innovation at Fujitsu Ireland and Chair of the Industry Advisory Board for the national Masters in Artificial Intelligence delivered by University Limerick. He is the AI Network Project Manager at the ICT Skillnet, driving the new Skills@ScAIe programme to develop leadership and technology skills pathways in AI.
Moderator – Paul Hearns
The webinars will be moderated by Paul Hearns who is a journalist, commentator, and presenter, with more than twenty years of experience in the ICT sector.