Duration:
Registration - Teas/Coffees at 8am. Starting 8:30-10:15
Location:
Ibec 86 Lower Baggot Street, D2
Note:
Free but registration is essential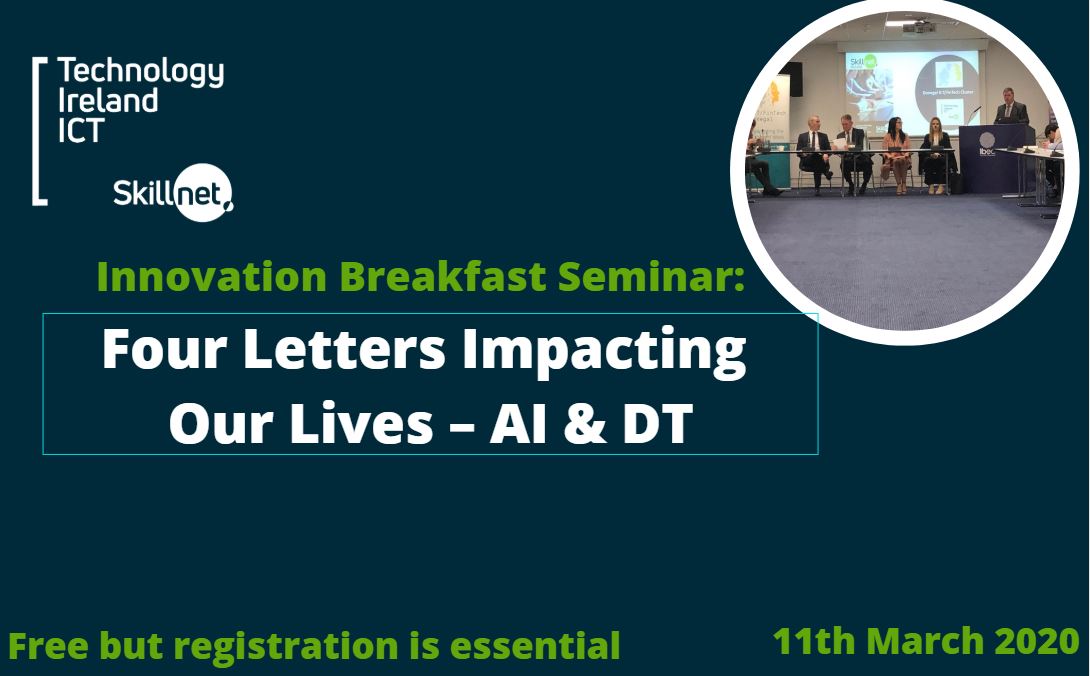 At our next seminar on March 11th we're delighted to host Niall Moran from Microsoft and Aoife Sexton from Trúata.
Over the past number of years, Microsoft has transformed itself from a software product company to a services company, radically changing their internal operations and how they engage with customers and partners. They managed this complex transformation while taking their share price to an all-time high. Niall will be sharing an overview of Microsoft's journey and his personal experiences – including their main levers of success and the pitfalls you should aim to avoid.
Joining Niall on the 11th, Aoife looks at the pros and cons of some of the latest technology designed to protect our privacy. Following the recent publication of the EU's Digital, AI and Data Strategy, the topic of how we can responsibly use consumer data for AI and data analytics strategy deserves a closer look. Truata is an Irish company solving this problem for Enterprise clients. Aoife will be giving an overview of the regulation landscape and how AI innovators can best operate in this changing environment.
Free to attend, this briefing will appeal to leaders involved in digital transformation initiatives and those interested in ethical and trustworthy AI.
0800-0830      Registration – Teas/Coffees
0830-0840      Welcome
0840-0920      Microsoft's Journey of Digital Transformation – Niall Moran
0920-1000      Feeding the Machine: Can data power AI without compromising consumer privacy? – Aoife Sexton
1000-1015      Q&A and Close
Microsoft's Journey of Digital Transformation
As part of his engagements as a Technology Centre Director in Microsoft, Niall regularly shares how Microsoft has transformed from what some people might call a dinosaur to an agile innovator and a leader in the technology sector. In this session, Niall will share some insights into how Microsoft perceived industry trends and pivoted their business from a licensing vendor to an agile cloud based partner for their customers driven by customer success.
Feeding the Machine: Can data power AI without comprising consumer privacy?
This presentation will look at the challenges and tensions that data protection regulations have created within data-driven organisations as the requirements of data science and analytics teams are set against those of the privacy team. We will highlight the impact of GDPR on AI projects in terms of accuracy and bias detection and look at the role of Privacy Enhanced Technologies (PETs) in delivering potential solutions.
Niall Moran
Niall works for Microsoft as a Technology Centre Director where he engages with large enterprise customers to help them envision how technology can help them transform their business. Niall has worked with Microsoft for 6 years and has seen the Microsoft transformation first hand. Prior to this Niall held roles in technology consulting, software engineering and a start-up CTO.
Aoife Sexton
Aoife Sexton is Trúata's Chief Privacy Officer. Trúata was founded by Mastercard and IBM in 2018, and delivers privacy-enhanced data management and analytics solutions to help clients unlock business growth while protecting consumer privacy. Aoife joined the Trúata team from the law firm Tech Law Services, advising technology clients within the areas of Commercial, Data Protection, IP and Technology Law. She also co-founded and has an innovative consultancy firm offering a full range of data protection services. As part of that firm, she acted as an approved IAPP trainer for the CIPP/E course and conducted regular training courses in Ireland.
Previously, Aoife headed up the IP/IT department of a large Dublin commercial law firm. Prior to that Aoife was General Counsel with an Irish technology company, Altobridge. Aoife worked in the GSM Association, the global industry body for mobile operators, where she held a number of senior positions including that of General Counsel, CEO (Interim), Head of Government and Regulatory Affairs and Head of the Development Fund.  Aoife is a graduate of University College Dublin (BCL) and the College of Europe, Bruges, Belgium. She is CIPP/E certified. She is a lecturer on data protection at the Law Society of Ireland's school of law and a lecturer on the Law Society's post graduate courses on data protection and technology law. She is also a regular conference speaker.