Dates:
2023 TBC Q3/Q4. To express your interest and to be notified when our 2023 dates are confirmed, please enquire/submit CV today and we will contact you once announced.
Duration:
12 Weeks, Part-time, online
Location:
Online with TU Dublin & Krisolis
Note:
If you are having issues submitting your CV/application via the links below please email info@ictskillnet.ie with the information noting the course name in the subject line.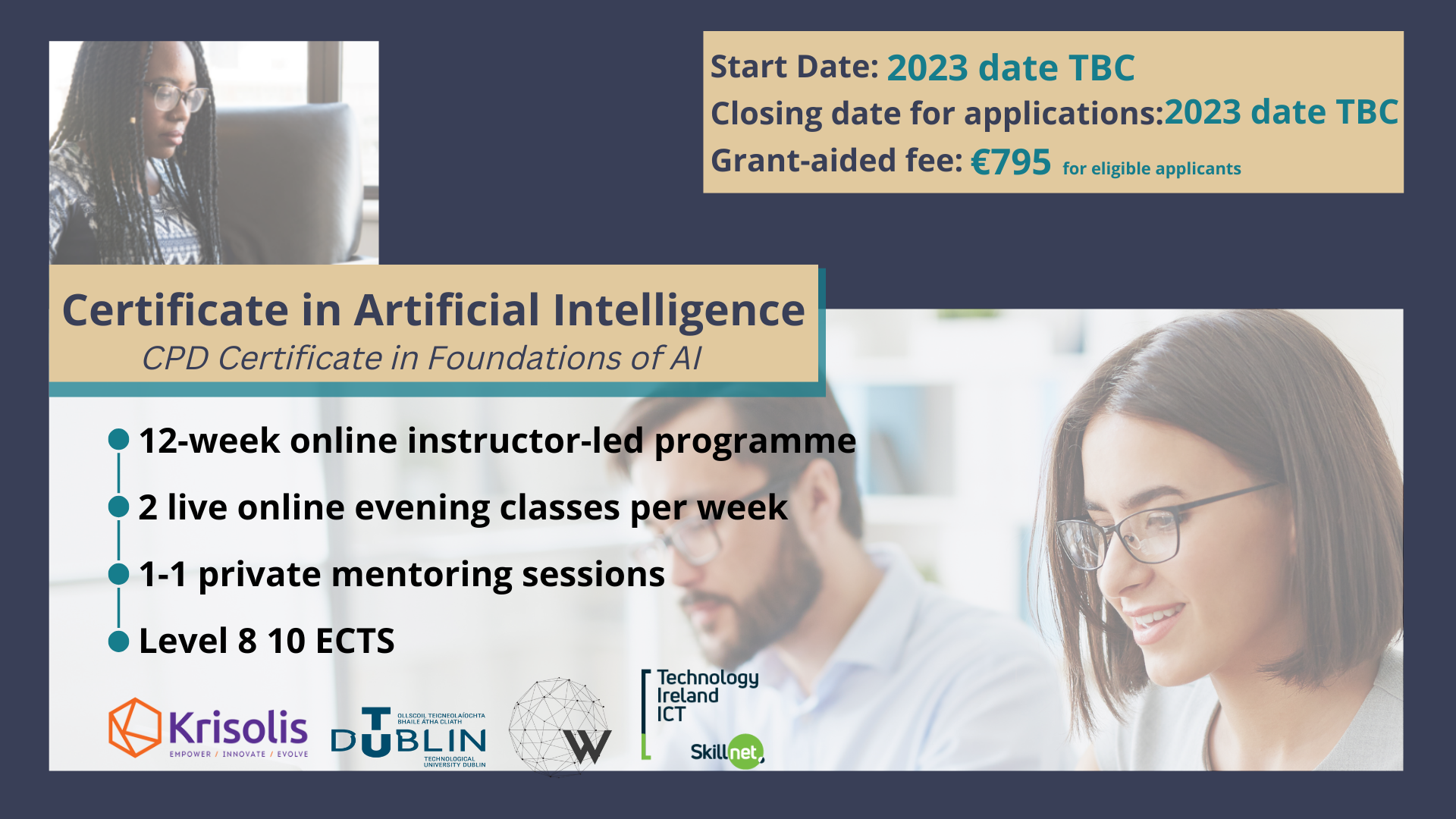 Watch our webinar to learn more about this fantastic course!
Chapter timestamps:
00:01 Introduction 02:24 Meet the team – 04:00 Women In AI Welcome Address – 08:55 Programme Details – 10:50 What will I learn
14:45 How will I learn – 19:20 Should I take this programme – 22:35 Student Experience -31:20 How to Apply – 33:00 Q&A Student questions answered
CPD Certificate in Foundations of Artificial Intelligence (AI)
This programme has been designed as an introduction to the foundations of AI. It is specifically targeted at those with an interest in and aptitude for transitioning into the AI disciplines but who do not necessarily have a background in AI or a related area.
The purpose of the programme is to provide learners with the foundational skills and knowledge they need to begin an artificial intelligence career, continue into further education or gain deeper insights into the area of AI to complement their current role or discipline. Perhaps you are a leader at work, and a better understanding of AI will help you lead and communicate more effectively with your team. This course could also be for you if you have returned from a career break or simply looking for a way to upskill in artificial intelligence.
Boosting Ireland's competitiveness in the AI space and enhancing Ireland's position as an AI leader are among the goals of this AI programme. It aims to fill important gaps in the skill development of AI talent in Ireland.
We are delighted to have developed this Level 8 10 ECTS Continuing Professional Diploma in partnership with the Krisolis, TU Dublin and Women In AI Chapter in Ireland,
What Is The Course Structure?
The programme will run on Tuesday and Thursday evenings from 6.30 pm to 9.00 pm as a live online classroom event.
The course material will include video recordings as well as readings, exercises, and assignments. Each student will receive 1-1 private mentoring sessions.
Assessment of learning achievement will be through a mix of online examinations, class assignments, a personal learning journal compiled in an academic style, and a capstone project addressing a specific AI problem or issue.
What Is The Eligibility Criteria To Apply?
1- Applicants need to possess a Level 8 (NFQ) Primary Degree, ideally but not necessarily in a cognitive discipline and will be expected to have an appreciable level of quantitative aptitude.
Although, applicants with relevant IT work experience and IT-oriented Level-7 qualifications can apply to be considered for application. These applications will be assessed on a case-by-case basis. Please advise upon application.
2- Applicants must be working in a private or commercial semi-state organisation registered in the Republic of Ireland(Business, Consultant, Freelancer) to avail of the grant-aided fees. As a government-funded training network we can only support those meeting this criteria.
Please note: Applicants who do not meet our funding criteria may in some cases be able to apply privately/directly to the college and pay the full fee of €1,259 if there are any available places. Contact us for more information.
What Are The Course Fees?
Applicants meeting the eligibility criteria will be eligible for the grant-aided fee of €795 per person. (Full cost for non-eligible €1,259)
Where Can I Learn More?
FAQ & Steps Guide HERE  or please see our "Further Information" button located at the top of the page.
Brochure HERE or located at the top of this page "Download Brochure".
Info Webinar HERE  Watch our info webinar to learn about the course in detail. (Programme details 08:55). Recorded last year.
How To Apply?
Simply select "Submit CV" and complete the short form, please ensure to note your current employer and current highest NFQ Level.
Successful applicants will be then directed to TU Dublin to begin their official college application. Please note: TU Dublin is the final arbitrator of who is accepted on the programme.
What our students say
"I would recommend this course to anyone who wants to get a solid understanding of AI and perhaps pursue or enhance a career in the field of AI"
"Overall the course is fantastic and would certainly recommend it to anyone"
"The variety of topics that were covered during the course were all relevant and provided a good insight into how AI needs to be understood and basics needs to be learnt"
What are some of the aspects of the course that students found valuable
"The practical real-life examples that were used helped me understand the theory much easier and the engaging style of the presenters"
"Getting a conceptual understanding of what exactly AI is. Getting practical experience with different AI tools. "
"Data quality and governance, Project management and understanding of AI and its current uses, the use of python for data analysis and prediction"
"The tutors delivered the training with enthusiasm and encouraged participation."
"An awareness of Al, technical methods and machine learning "
"The practical introduction to Python"
"The practical work near the end for prediction models, data prep, model evaluation"
Who Do We Partner With?