Duration:
12 weeks part-time
Location:
ONLINE with TU Dublin & Krisolis
Note:
Closing date for applications is the 16th of August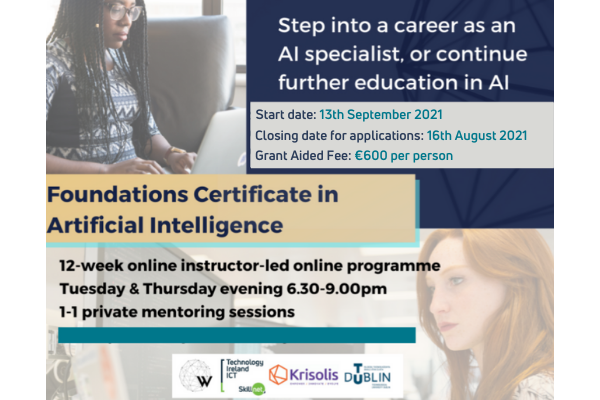 PROGRAMME OVERVIEW
This programme aims to fill important gaps in the skills development of AI talent in Ireland and thus boost the adoption of AI and enhance Ireland's position as a leader in the AI space.  This programme has been designed as an introduction to the Foundations of AI. It is specifically targeted at those with an interest in and aptitude for transitioning into the AI disciplines but who do not necessarily have a background in AI or a related area. The purpose of the programme is to provide the learners with the foundation skills and knowledge to begin a career as an AI specialist, or to continue into further education in AI.
We are delighted to have developed this Level 8 10 ECTS Continuing Professional Diploma in partnership with the Women In AI Chapter in Ireland.
COURSE STRUCTURE
The programme will run on a Tuesday and Thursday evening from 6.30pm to 9.00pm as a live classroom event. The course material will include video recordings as well as readings, exercises, and assignments. Each student will receive 1-1 private mentoring sessions. Assessment of learning achievement will be through a mix of on-line examination, class assignments, a personal learning journal compiled in an academic style, and a capstone project addressing a specific AI problem or issue
FEES 
Applicants meeting the eligibility criteria will be eligible for the grant aided fee of €600 per person.
ELIGIBILITY CRITERIA*
Applicants must be working in private or commercial semi-state organisations registered in the Republic of Ireland.
CLOSING DATE
The closing date for applications is on the 16th of August 2021.
To make an application, candidates should submit their CV in the first instance using the button at the top of this page.
Making an application is not a guarantee of selection.
PARTNERS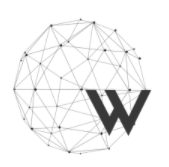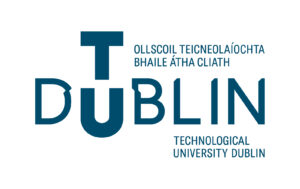 *Subject to approval