Duration:
Discussion including Q&A will be approximately 45 minutes
Note:
Free but registration is essential
Overview
EMBRACE is a European funded research project to promote Corporate Social Entrepreneurship (CSE) in Higher Educational Institutions' educational programmes. Today's knowledge-driven global economy requires research and innovation to create solutions that address social inclusion, social equality and a host of other societal needs. Aspirations such as this can only be achieved through open collaborative, cooperative engagement between multiple societal actors including corporations, governments, educational institutions and NGOs.
Hear how John McGrath, IBM and Neil Giles, The Traffik Analysis Hub,are collaborating to disrupt Human Trafficking.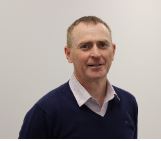 Speaker Bio: John McGrath, IBM
John is a Senior Solution Architect for IBM Watson Financial Services and is the leader of IBM's
TechForGood team in the IBM Centre of Excellence for Corporate Social Responsibility. Based in the
IBM Ireland's Software Lab, he was previously the Worldwide Practice Leader for IBM Security and
Smarter Cities designing and delivering projects for IBM enterprise clients globally. Prior to joining
IBM, he was the Enterprise Program Director for Portal at TransAlta in Canada.

Speaker Bio: Neil Giles, The Traffik Analysis Hub
Neil has over a 10 year history in collecting and developing intelligence on the issue of Modern Slavery / Human Trafficking (MSHT) globally.  He is currently CEO of The Traffik Analysis Hub.  Prior to this he worked with STOP THE TRAFFIK (STT) from 2008 and held the position of Director of the STT Centre for Intelligence-Led Prevention (CfILP). Neil has a long history in Law Enforcement with New Scotland Yard, Regional and National Crime Squads, National Criminal Intelligence Service and Serious Organised Crime Agency (SOCA) in leading major international programmes to counter organised crime. This includes the UK Law Enforcement Attaché to North America, based at the British Embassy, Washington DC. In SOCA, he led the Human Intelligence Department in collecting information globally on organised crime and has on the ground operational experience in Afghanistan, Colombia and in West Africa, including Nigeria as well as leading the UK and Europol initiatives to undermine Cocaine Trafficking to the EU and UK from production areas in the Americas. He also served as COO at UK Child Exploitation and Online Protection Centre (CEOP). Since leaving UK Law Enforcement, Neil has also been working as a consultant to family businesses trading commodities internationally, such as Natural Rubber, and as an advisor to the management of a commercial English Wine Estate. Neil has also served as Chairman of an innovative Tidal Energy business. He is a trustee of several local charity initiatives. Neil worked with the Thomson Reuters Foundation to inaugurate the European Bankers Alliance Against Trafficking initiative to develop new prevention guidance and advice to financial institutions to make banking systems more resilient to trafficking money flows. This work is now also developing similar initiatives in North America and Asia Pacific regions. Neil has more recently begun to build a local response to MSHT in the West Sussex area where he and his family reside.