Location:
Online Webinar. 11:00am - 12pm
Note:
Free but registration is essential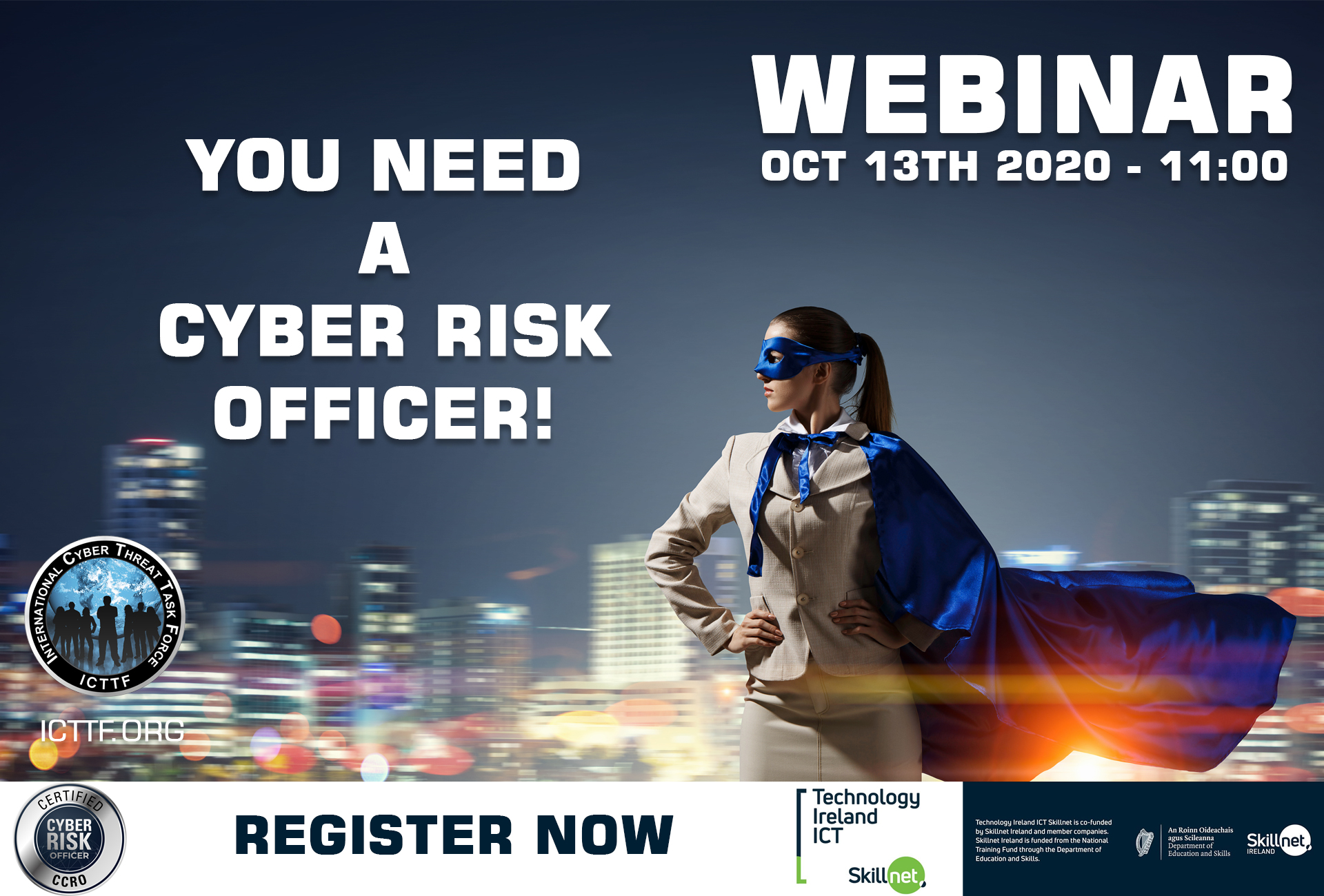 Overview
The reality is that all businesses are interconnected and interdependent, each with its own unique business model and inherent cyber risk characteristics. The cyber risk impacts of Covid-19 are well documented from the surge in opportunistic nefarious activities of cybercriminals to the less understood impacts of accelerated change and digital transformation. All this with a backdrop of a global cyber skills shortage with over 4 million open cyber security jobs and of course the "social distancing" challenge.
Cyber risk management is a holistic enterprise challenge and goes way beyond just the silo of "IT Security". The CEO is responsible for cyber risk and the board are accountable. It is a business imperative that goes beyond protecting the business to empowering the business to leverage change, innovation and digital transformation. Effective cyber risk requires leadership and needs to be driven from the top supported by policy, controls, knowledge and a culture of loyalty. The ICTTF – International Cyber Threat Task Force have developed an education syllabus which is delivered via an 8-week online course, supported with live ILT (Instructor Led Training) sessions.
The CCRO Certified Cyber Risk Officer Course is designed to meet today's challenge for business leaders. It empowers them with the confidence to push back at technical jargon and relate issues to the business priorities so they can make informed decisions supporting the business strategy. This unique offering benefits from International certification and is non-IT technical in approach, designed and delivered specifically with a business audience in mind.
The answers lie within the organisation. The key people who understand the business, should understand the risks and options to protect and empower the business.
These business leaders are the most appropriate people to understand and implement the most appropriate cyber risk framework across an enterprise NOT external vendors or technical gurus. They have their place in supporting the mission, but leadership needs to be empowered to align an appropriate cyber strategy to the business strategy. All too often there is a focus on aligning cyber security with audit findings as opposed to business strategy and innovation. With the option of "external consultants" all but gone due to Covid-19, now is the time for organisations to empower their own most important business leaders so they can collaborate, drive efficiencies and support the enterprise in delivering thebusiness goals.
Join Paul C Dwyer, president of the ICTTF as he outlines the business case for a "Cyber Risk Officer" and how business leaders can fast track their way to a qualification that will enable and empower them to protect their businesses, enable innovation, collaboration and provide them with the "cyber confidence" to be more effective in their roles.
PLEASE NOTE: Webinar links will issue to you separately a short time after you have registered