Dates:
Estimated Q4 2023. To express your interest and to be notified when our 2023 dates are confirmed, please enquire/submit CV today.
Duration:
24 week part-time, 1 online class per week.
Location:
Online, delivered by Atlantic Technological University.
Grant Aided Fee:
Part-funded fee €595* (Standard fee €1700)
Note:
Only those working in private or commercial semi-state organisations registered in the Republic of Ireland can avail of our part-funded fees.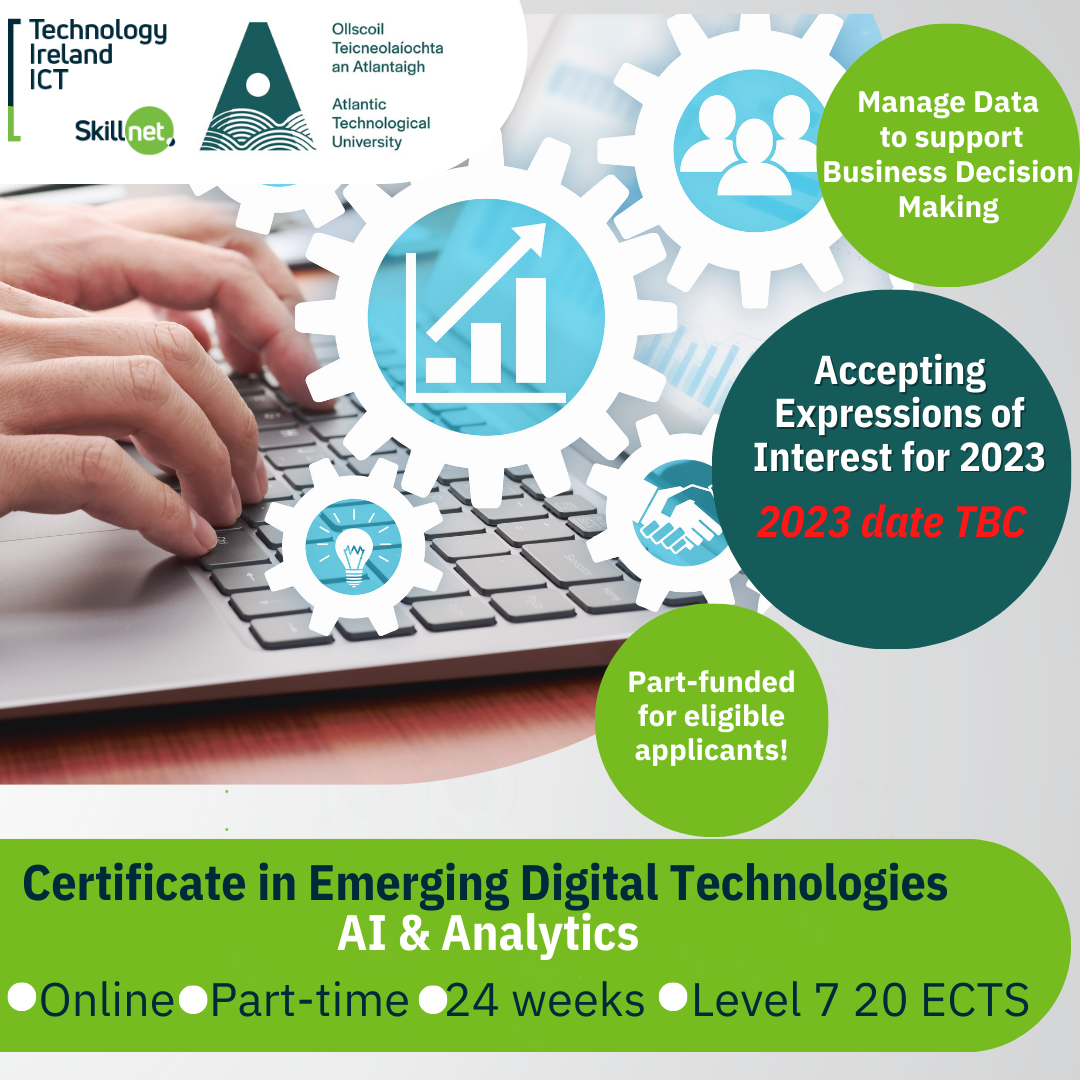 Please note: If you are having issues submitting your CV/application via the links above please email info@ictskillnet.ie with the information.
Overview
This 100% online programme has been developed with industry needs in mind, to upskill those currently involved in managing data and information to facilitate broader adoption of a range of emerging digital technologies with the objective of improving market position, competitiveness and commercial reach. Even before recent events, the marketplace was changing rapidly, driven by the emergence of new technologies.  Since March 2020 these changes have accelerated.  Businesses now know that their survival depends on understanding the challenges and opportunities offered by these technologies.
The purpose of this programme is to equip participants with a detailed understanding of Emerging Digital Technologies and how these technologies can be leveraged to improve business processes and support better decision making.
Course Objectives
The graduates of this programme are not expected to be 'technical' graduates but rather will be equipped to understand the needs of the organisation and how they can be met through technological solutions. Furthermore, they will be capable of articulating their knowledge, incorporating it into their company, and planning and measuring progress in adopting new technologies. Graduates will be able to liaise with internal or external ICT professionals using a shared body of knowledge and framework of understanding. They will be able to discuss knowledgeably matters such as different options for data organisation and compliance, business intelligence, data analysis and the use of data to support strategy and decision making.
The programme will give students a solid foundation in emerging digital technologies such as how business intelligence works, how to visualise data, how to store and how to analyse data. By the end of the course, students will know how to summarise and interpret the data they have accumulated so that they can make more effective predictions and decisions. Students will also begin to look at how this data can be applied to the development of Artificial Intelligence (AI) and how AI may be able to benefit their organisation.
Eligibility Criteria
To qualify for direct entry, candidates must have a minimum of a Level 6 qualification on the NFQ (National Framework of Qualifications) in any discipline or at least 3 years industry experience including some management or supervisory experience.
Fees
The part-funded fee you pay is only

€595

*
.  The course cost without funding is €1,700.
*Part-funded fees are only available to eligible candidates working in private or commercial semi-state organisations in the Republic of Ireland (Business, Consultants, Freelancers).
How to apply
Click on the button at the top of the page to submit your CV.
Testimonial
If you would like to hear from one of our students please watch the video below.