Dates:
Estimated Q1 2023. To express your interest and to be notified when our 2023 dates are confirmed, please enquire/submit CV today.
Location:
Online Part-time with NCI
Note:
Taking expressions of interest/applications for 2023.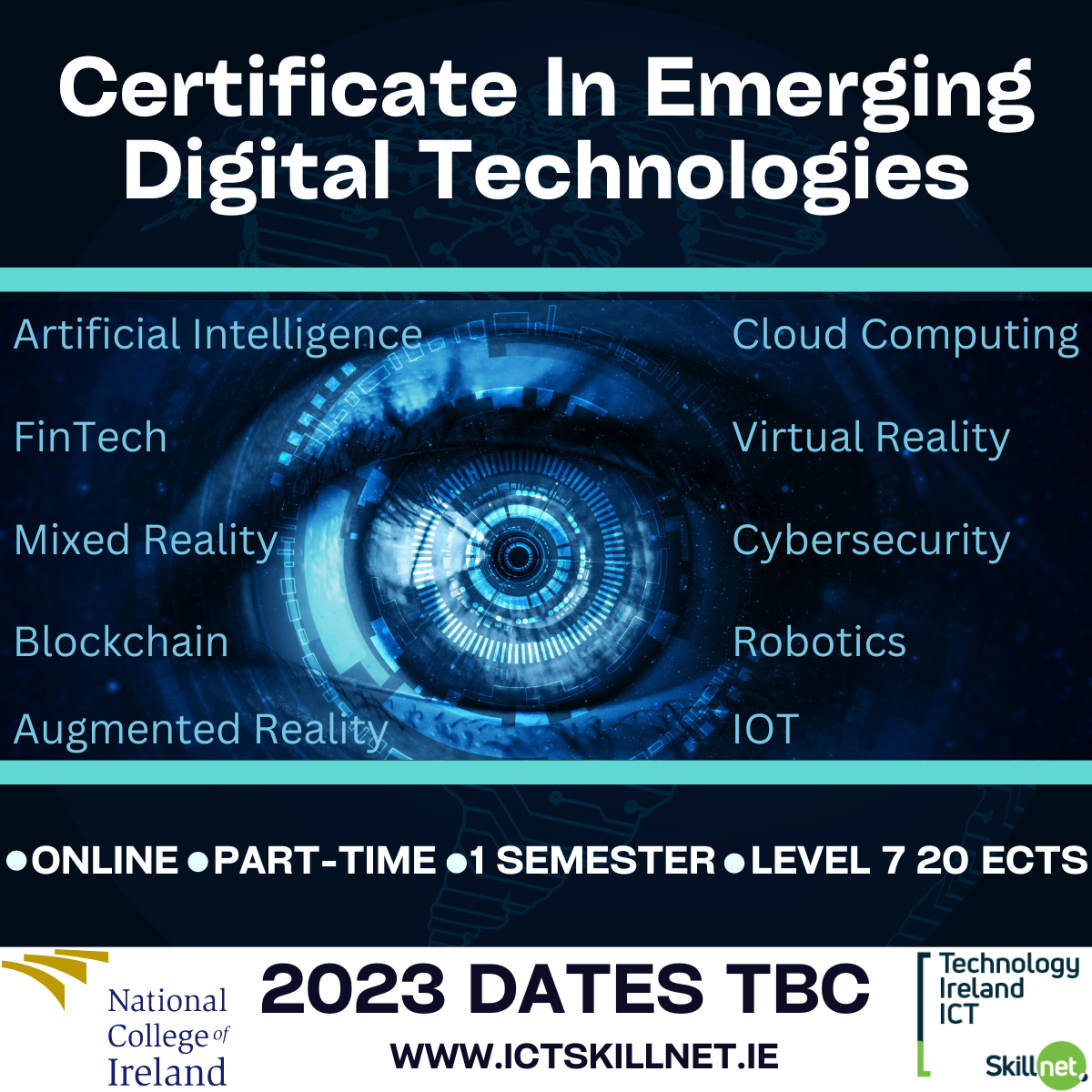 Overview
The last couple of years has seen a rapid acceptance of technology as a key enabler for businesses to survive and scale. The challenge faced by the majority of decision-makers is attempting to understand which of the technologies will beneficially impact their business and deliver value to their bottom line.
Are you unsure and hesitant about investing in technology?
Would insights and help in understanding those technologies be of interest to you?
Do you want to avoid losing competitive advantage or being slow to adjust to the new business world post Covid?
You are not alone, the opportunity now exists to prepare for the future.
Why study this programme?
To remain competitive and take advantage of market opportunities, professionals, managers, and decision makers can gain deeper knowledge of newly appearing technologies and how they can be applied in their business models.
This online Certificate in Digital Emerging Technologies will give you a better understanding of new technologies like Artificial Intelligence, Blockchain and Cybersecurity amongst others,  to empower you to make better business decisions while adding new knowledge to your individual learning portfolio.
The course is taught over one semester and is delivered completely online through both synchronous and asynchronous directed activities using state-of-the-art technologies and teaching techniques to support the virtual classroom. Asynchronous directed activities consist of short videos, recommended reading and tutorial exercises. Students are expected to engage with this content each week before their live class to build an understanding and to prompt questions.
Entry Requirements
A minimum of a Level 6 qualification on the NFQ (National Framework of Qualifications) is required for standard entry. For
candidates who do not meet this minimum entry requirement, the college operates a Recognition of Prior Experiential Learning
(RPEL) scheme whereby applicants may be considered based on relevant work or other experiences.
Candidates must be working in private or commercial semi-state organisations in the Republic of Ireland.
Schedule
Four hours of Live online lectures will be delivered per week.  Live lectures will be from 6:00pm – 8:00pm on Tuesday & Thursday evenings.
Fees
Full Course fee: €1,700
Skillnet grant: €1,105
Student Cost: €595
*Part funded fees are only available to eligible candidates working in private or commercial semi-state organisations in the Republic of Ireland (Businesses and Consultants).
How to apply
Click on the button at the top of the page to submit your CV.
Please submit your CV to express your interest for 2023
Information webinar from 2022 –
Please note: Dates mentioned are for our 2022 cohort but the course information itself is valid.