Dates:
Full access until March 31st 2023
Note:
Grant-Aided for those working in a private or commercial semi-state organisation registered in the Republic of Ireland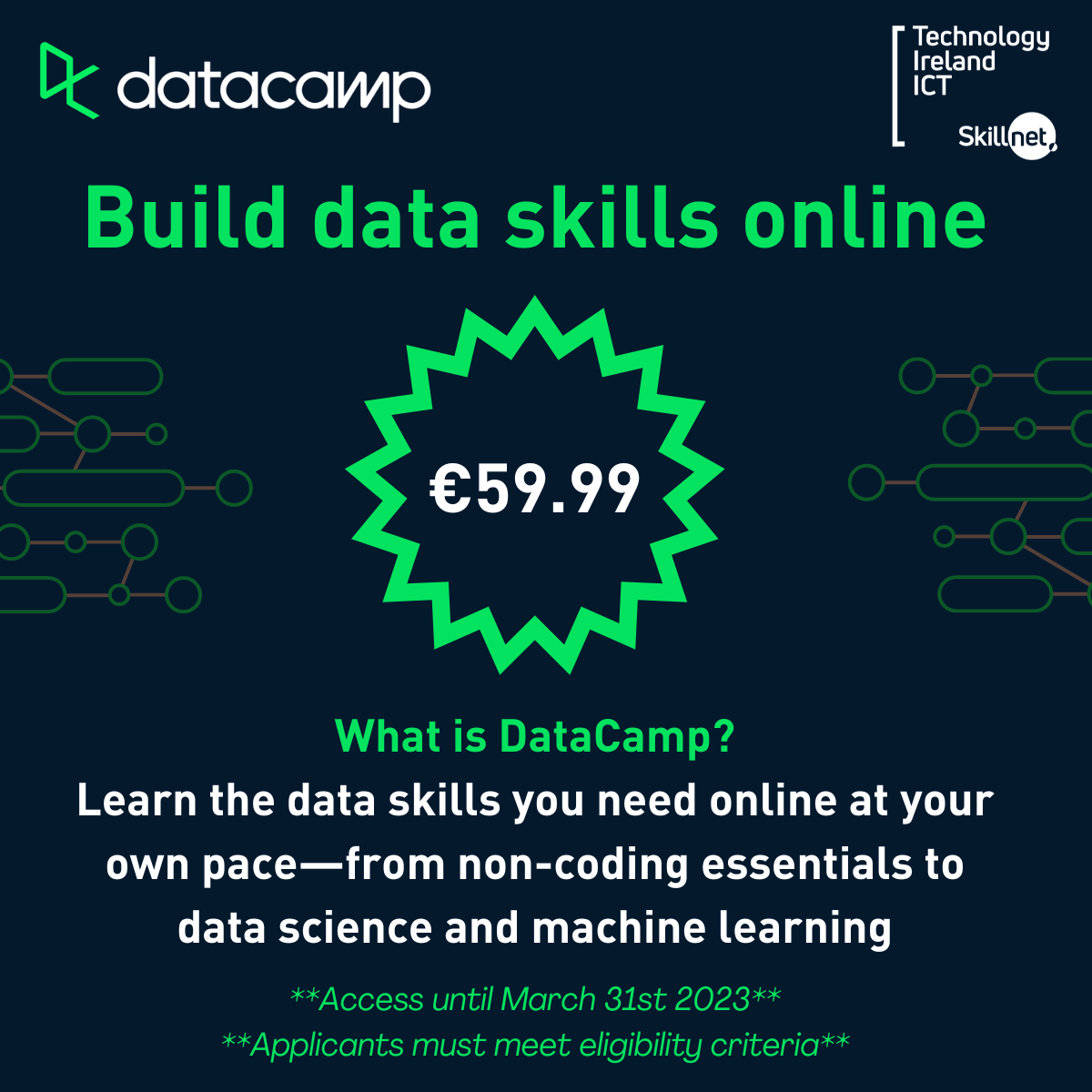 What is DataCamp?
DataCamp is an interactive online learning platform.
Skill up at scale. Data training designed for your business. Join 2,500+ companies and 80% of the Fortune 1000 who use DataCamp to upskill their teams.
It offers 380+ interactive courses taught by one of the 260+ expert instructors, 50+ Curated Learning paths which specialise in topics like data science and analytics. You can take courses in technologies such as Python, R, SQL, Power Bi, Theory, Spreadsheets, Tableau, Shell, Git, Excel, Julia, Scala.
"DataCamp is an online learning platform that teaches students new technical skills or helps them brush up on their current skill set. DataCamp is a self-paced, non-proctored approach to learning" ~ Forbes
"When you sign up with DataCamp, you'll experience a hands-on approach to learning that includes regular skill assessments to track your progress. Courses include challenges and projects featuring real-world elements to help you figure out how to apply your new skills in the workplace.
Through a series of courses or career paths, DataCamp can help you learn coding languages like Python, R, SQL and Scala, along with products like Tableau, Power BI, Oracle SQL and Excel." ~ Forbes
What are the benefits?
Only €59.99 for full access to the DataCamp platform until March 31st 2023
24/7 online access, learn at your own pace in your own time
Learn at your level from beginner to advanced, DataCamp caters to everyone
Engaging & Interactive with videos, exercises & case studies to help reinforce your learning
380+ Courses which are bite-sized and digestible for learners
Courses & tracks designed to help you gain new skills and career paths
Get Certified! Data Scientist or Data Analyst
Share your successes! Shareable statement of accomplishment upon course/track completion
Microsoft PL-300 Data Analyst with Power BI exam prep- Learning path co-created with Microsoft
Assess, Learn, Practice and Apply – DataCamps proven learning methodology
What is the focus of the DataCamp courses?
1- Skills Tracks – Gain specific expertise by learning a skills track, which is a collection, of courses, curated by industry experts to grow your data skills.  Courses include R Programming, Importing & Cleaning Data and Data Visualization.
2- Explore a new technology- Learn by following short videos that are led by expert instructors, and then practice what you have learned with interactive exercises.
3- Career Tracks- Curated by industry experts to help you grow your data skills and advance your career. In areas such as Data Analyst or Data Scientist.
Will I get a Statement of Accomplishment?
When you complete a course or track, DataCamp will provide a statement of accomplishment for you to download or share on Linkedin.
Can I get certified?
Demand for data talent far exceeds the supply of qualified candidates. This has made recruiting data talent extremely difficult and competitive.
Data Camps certification programs help you stand out and prove your skills are job-ready to potential employers.
You can choose between associate or professional level certification as a Data Scientist or Data Analyst.
Example of certification exam requirements.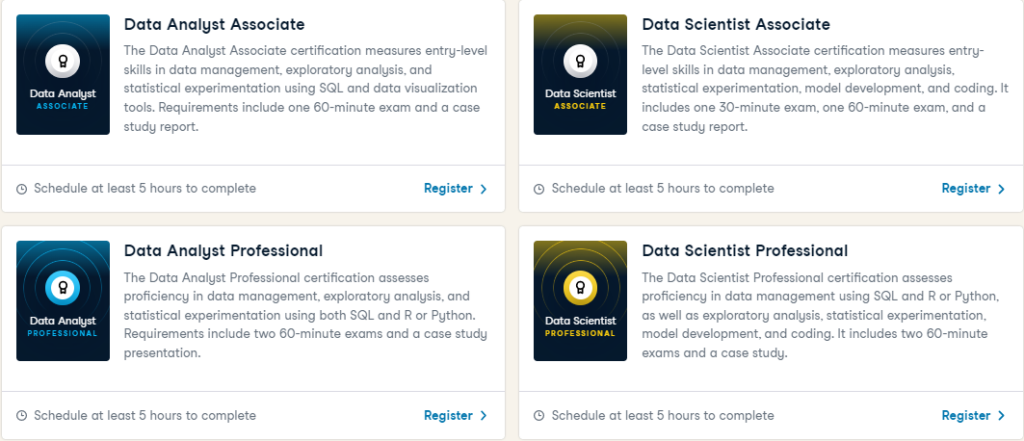 How to apply?
Simply click "Book Now" below!

You can choose to pay via EFT/Cheque (Invoice issued) or immediately with Stripe (Stripe charge applies)
Applicants are uploaded weekly once payment is received.
I want multiple licences for my organisation.
For multiple licences and a single invoice please email gillian.ogrady@ictskillnet.ie
Please indicate the number required
Your accounts email address
PO number for the invoice (If required)
Please note all employees will be required to complete the booking form.