Duration:
3 Semesters (18 Months)
Location:
Delivered primarily online
Grant Aided Fee:
€1,100 per annum
Note:
Limited to 20 places apply early!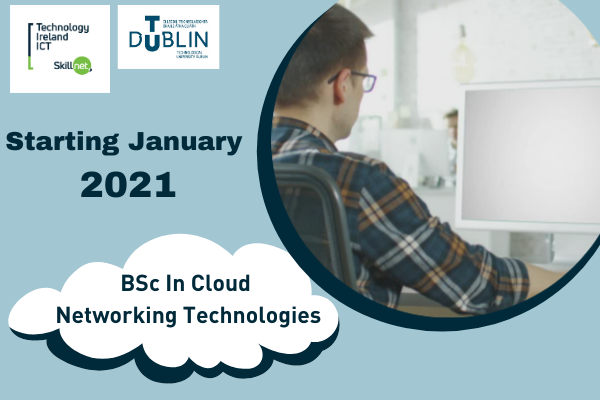 This programme aims to develop a range of technical skills coupled with a good working understanding of how enterprises use networking technologies in back-office operations and in commercial activities and applications.
Competent networking technologists an cloud Architects must understand the relevant building blocks of IT systems. These include Client Systems and Applications, Networking Infrastructure, applicable Programming Languages, Web tools and technologies, Databases, Data Analysis and more.
Becoming a Cloud architect means developing a deep knowledge and understanding of Cloud Computing and its roles and uses in the marketplace. It means exploring a host of important technologies that include Virtualization, Software Defined Networking, Network infrastructures, physical and virtual storage, backup and restore technologies, Network Security and more. It also means working on the soft skills that are crucial to the effectiveness of the Architect's role.
Semester 1 – Jan to May 2021
Semester 2 – Sep to Dec 2021
Semester 3 – Jan to May 2022
This exciting new primarily online programme delivers all of this across 3 semesters starts in January 2021.
The closing date for applications is Friday 4th December 2020*